Uberflip Integrates With HubSpot To Measure, Boost Content ROI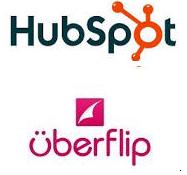 Uberflip, an interactive content marketing platform provider, has integrated with HubSpot, offering users of both platforms a more complete view of content performance.
The integration is designed to help marketers understand which types of content are most effective and score individual pieces of content.
The option to add calls to action (CTAs) to various pieces of content also boosts the content's ability to move leads through the buying cycle.
The partnership also enables marketers to:
Use CTAs that boost the quantity of leads collected

Recognize how effective pieces of content are with in-depth reports; and

Nurture leads more effectively with metrics gained for user content interaction.

"Technology and marketing techniques are always evolving and by using HubSpot to help generate, nurture and convert leads, we believe we are creating the best possible experience for our audience, leads and customers and staying on the cutting edge of technology," said Yoav Schwartz, Founder and CEO of Uberflip. "With this integration, we look to simplify the process for our customers while positioning ourselves as the 'go-to' source in an often crowded and noisy industry."