Mikogo Closes 30% More Deals With Marketing Automation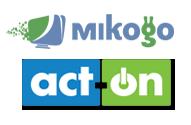 Act-On Software announced that Mikogo, a manufacturer of desktop-sharing software for online meetings and web conferencing, has adopted Act-On to overhaul its lead management process.
Using Act-On's automated programs, Mikogo has achieved a 30% increase in closed deals.
The manufacturer has also seen a benefit in being able to trigger immediate follow-up messages for their initial welcome emails to new subscribers, ensuring these leads follow a double opt-in process to begin receiving the company's email communications.
Mikogo has also posted a 45% opt-in rate among subscribers in Germany, where the company is based, and 33% opt-in rate among wordwide users.
Serving a growing user base of 1 million-plus, the company had content, social, SEO, and PR to drive and sustain traffic across eight localized websites, However, leveraging those leads — including qualifying, prioritizing, and following-up in a timely manner — had been a challenge.
Act-On provided the functionalities necessary to manage, score, and nurture leads, while also integrating with Mikogo's current CRM system, Salesforce. Mikogo's sales team benefited from real-time access to marketing campaign performance, and gained in the process a much clearer picture of its potential buyers — the pages they visited, emails they engaged with, assets they downloaded.
Act-On's additional capability for lead scoring now allows the marketing team to qualify leads before pushing them into Salesforce, creating a mechanism for lead prioritization based on behavioral insight and web site activity, making for timelier sales communication and warmer conversations.
"Prior to Act-On, our sales team spent hours each day manually qualifying leads and relying on cold calling and luck to find interested leads," said Andrew Donnelly, Online Marketing Manager at Mikogo. "Now, Act-On's automated programs, lead scoring, and behavior tracking completely take care of this."