Survey: Lack Of Processes, Metrics Holding Back Content Marketing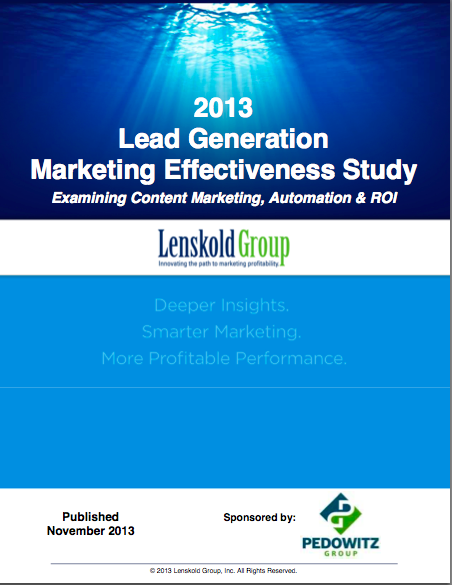 The growth in content marketing can be partially attributed to the increased adoption of marketing automation to support lead generation. Marketing automation, especially when integrated with a company's sales or CRM system, simplifies marketing management and enables marketers to leverage rich data that was previously difficult to obtain.
While research shows that marketing automation improves content marketing effectiveness, it is constrained by shortfalls in processes, management and measurements. Marketing organizations lack strengths in key process areas that are often enabled by marketing automation, such as content customization, targeting and measurement of sales conversion.
These are just some of the finding of the 2013 Lead Generation Marketing Effectiveness Study, conducted by Lenskold Group, sponsored by The Pedowitz Group and supported by Demand Gen Report.
The findings are surprising in many ways. The survey, which collected insights from 323 B2B lead generation marketers, indicated that companies that have marketing automation integrated with their sales/CRM system reported greater growth and higher levels of marketing effectiveness and efficiency. However, the level of strengths in content marketing processes was very low, even for companies with integrated marketing automation.
Companies with marketing automation are missing out on some relatively easy opportunities to improve marketing performance and deliver measured contribution to revenue and ROI. This was evidenced by a best practice group of the top 13% of marketers who reported having highly effective and efficient marketing. This top-tier group is much more likely to report having "much greater growth" than their competitors. They are equipped with integrated marketing automation (80% vs. 56% of all others) and have the discipline of using marketing ROI to measure effectiveness (76% vs. 30% of all others).
Content Marketing Process Strengths
Less than half of lead generation marketers reported strengths in their organization's content marketing processes for "re-purposing content for efficiency," "capturing intelligence for the sales team" and "customizing content to buyer roles." However, companies with integrated marketing automation showed higher levels of strengths on each. Barely one in four marketers indicated strengths in "helping current buyers get value from past sales," "customizing content to the buyer's journey", and "using intelligent targeting to trigger content." The highest level of strength was for "educating prospects on solving needs" — a fundamental role of content marketing — was reported by just 53%.
It's surprising that these processes are not yet strengths, since most are forms of leveraging the capabilities most marketing automation delivers, such as improved targeting, intelligence and relevancy of content. Marketing automation must be managed as more than just a tactical tool to implement campaigns. The shortfalls should diminish as marketing executives build the culture and discipline around comprehensive processes aligned to strategic and financial outcomes. At a minimum, marketers must put more attention on improving the basics of educating prospects and re-purposing content for efficiency.
The top-tier segment of highly effective and efficient marketers results are quite different. This segment showed higher strengths in all content marketing processes, with gaps of 21% to 42% over all other marketers as shown in the table below. The greatest advantage was found in the strengths reported for "using intelligent targeting to trigger content" — a capability that leverages marketing automation strategically to make content more effective in producing results.
Content Management Best Practices
Content management is another area where good practices are reflected among the top-tier segment. The research found that highly effective and efficient marketers excelled at keeping content fresh, producing new and compelling content and having budget for external resources to produce content. Less than one third of companies without highly effective and efficient marketing indicated strong agreement that they had these capabilities in place.
Content Marketing Measurements
Only 21% of marketers overall indicate having strengths in measuring the incremental revenue from content marketing and 23% have strengths in measuring ROI. This only improves slightly for companies with marketing automation. Once again, the capabilities inherent in marketing automation should improve measurement strengths, so it is possible that culture and discipline are to blame. In fact, companies with highly effective and efficient marketing are more likely to report strengths in measuring incremental revenue and ROI (jumping to 49% and 51%, respectively). The research study found that companies using integrated marketing automation benefit from improved tracking and attribution measurement techniques. However, adoption of more precise measurement techniques remained low for both automation and non-automation companies.
Additional differentiators can be found from what highly effective and efficient marketers cite as the primary drivers for improving revenue contribution from content marketing, which were marketing automation systems (78%), lead scoring based on content and engagement (68%) and reliable measurements (44%).
The arrival of marketing automation is a huge win for marketers who have long been technologically neglected prior to digital marketing. But the tools will only take you as far as the processes, culture and discipline set by the organization. There is untapped opportunity that requires a solid strategy aligned to incremental sales, revenue and ROI. Map out your content marketing plans to educate and engage potential buyers and leverage targeting and customization functionality to more effectively guide them through the Buyer Journey to a sales conversion. Success will lead you into the top tier category of companies with highly effective and efficient marketing.