Brainshark Adds Broadcasting Capabilities To SlideShark App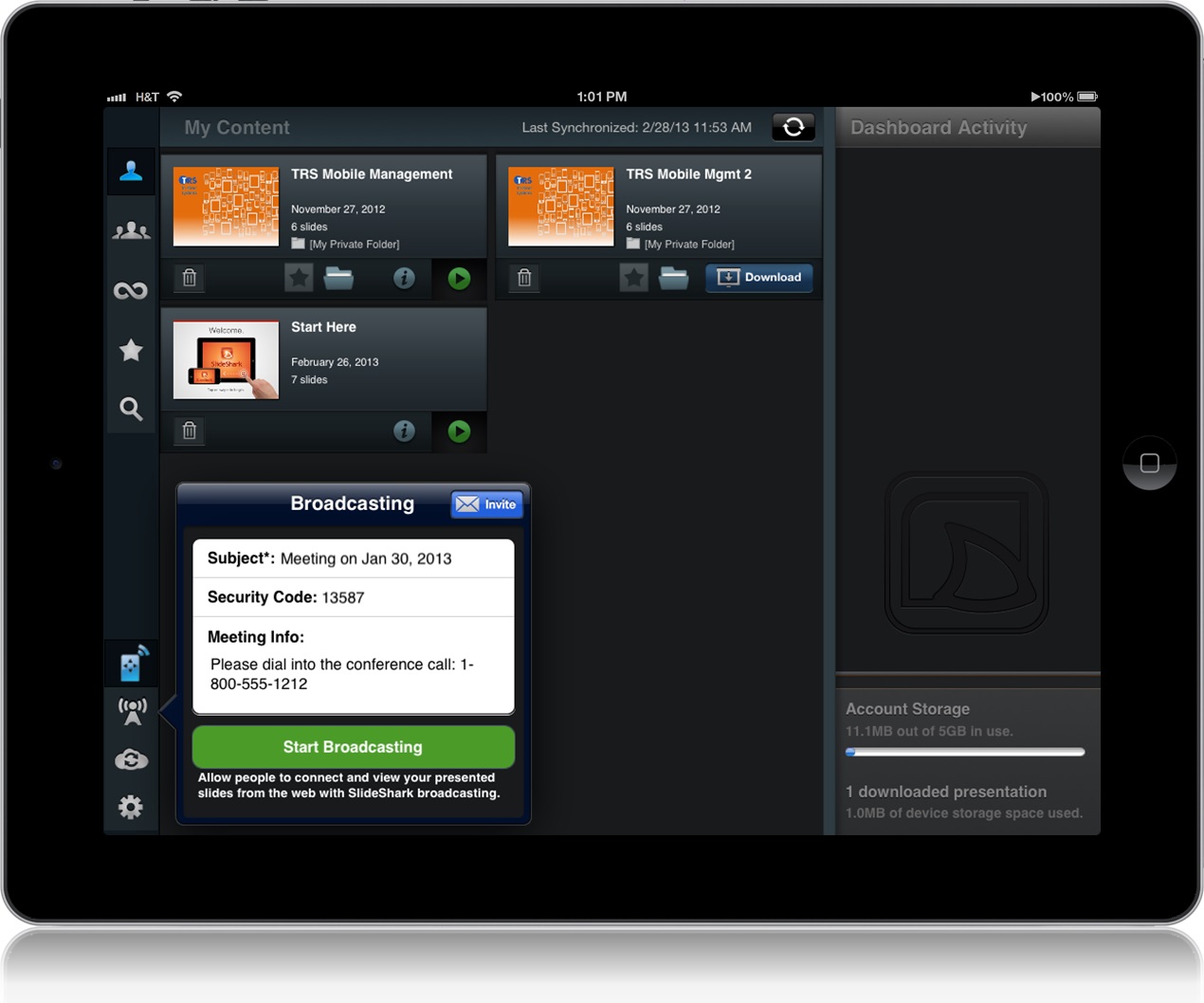 Brainshark launched SlideShark Broadcasting, which makes it possible for in-person or remote attendees to view presentations in real time and provides presenters with in-depth information about attendees.
With the launch of SlideShark Broadcasting, presenters using SlideShark on iPads and iPhones can:
Tap within the app to begin broadcasting their live presentations. Presenters each have a unique URL with their username that attendees use to join the broadcast;
Invite attendees by email from within the app — either before the presentation starts or even during it — to click the link to join the broadcast;
Receive visual alerts when someone enters/exits a broadcast; and
Get an in-depth report on who attended the broadcast and for how long.


"The detailed reporting of SlideShark Broadcasting provides presenters with information for appropriate follow-up," Andy Zimmerman, CMO of Brainshark, told Demand Gen Report. "Presenters can see who joined the meeting and for how long, the content of the meeting and what transpired to help them take the next appropriate steps."
David Klein, Senior Product Director, added: "The SlideShark app has had nearly a million and a half downloads since we launched it in Oct. 2011, and we expect the real-time broadcasting capabilities and detailed reporting on audience behavior to attract more users."
Brainshark also announced SlideShark Pro, a new offering that includes the broadcasting capabilities and provides an additional 1GB of storage for the user. SlideShark Pro account holders are able to invite up to 10 attendees to view each presentation they broadcast. Users of SlideShark Team Edition, the multi-user business version of SlideShark, can invite up to 25 attendees per broadcast. Free SlideShark users as well as individuals with SlideShark Plus accounts can try the capability through May 31 at no cost – inviting up to three attendees to view each broadcast.