Case Study: SAP Uses ON24 Webcasting To Drive Community-Focused Marketing Strategy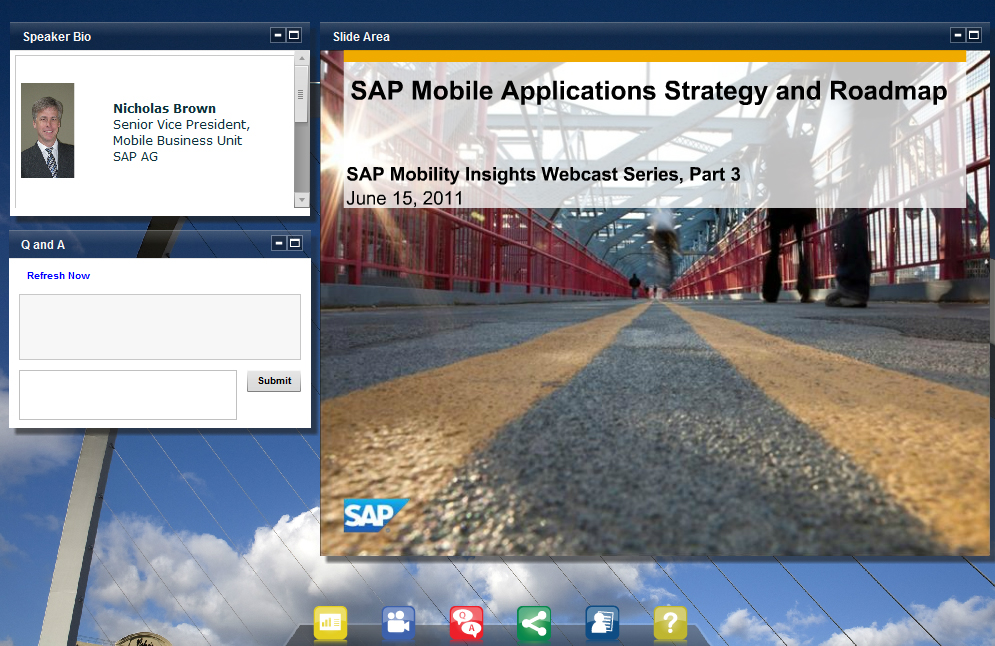 Webcasting is a familiar tool for many B2B marketers. When software giant SAP partnered with ON24 for a recent webcasting initiative, however, it got a powerful reminder of the impact this technology can have on customer conversion rates and bottom-line revenue.
SAP is widely recognized as a leading enterprise software provider. Since its founding in 1972, the German-based company had grown to include more than 54,000 employees in 50 countries, serving a worldwide customer base exceeding 183,000. For SAP customers, partners, employees and independent experts, the company's SAP Community Network (SCN) represents a unique and valuable business resource.
A Community Creates Opportunity
SCN wasn't originally built as a lead-generation vehicle — it was started as a platform to facilitate conversation with and within the SAP community. Almost immediately, though, SCN community leaders discovered that SAP users were looking for deeper content and engagement, according to Tricia Heinrich, Senior Director of Strategic Communications, ON24.
"Early on SAP recognized that community members were interested in industry 'megatrends' such as cloud computing and mobility," Heinrich said. As a result, what started as an online community morphed into a lead-generation vehicle – with the users themselves driving the process and requesting more information about SAP solutions.
For SCN community leaders, this presented a new challenge. They needed a communication platform that would allow them to address thought-leadership topics and facilitate two-way communication, while capturing leads and converting community engagement into increased revenue. "Only with a virtual communication solution can SAP provide industry information in an interactive and engaging way, encouraging online communication, to a global audience," Heinrich said.
Webcasting: A Profitable Partnership
SAP partnered with SAP EcoHub – the company's online solution marketplace – to host a series of Webcasts powered by ON24 Webcasting Platform 10. The effort aimed to achieve several key goals, including building a bigger and more engaged SAP community; generating leads and revenue; and gaining deeper insights into community members' needs and preferences. With those goals in mind, SAP crafted a webcast series to target customers, prospects, partners and individual influencers with relevant and timely content.
According to Heinrich, SAP's decision to use ON24 Webcasting Platform 10 exceeded the company's expectations in several key areas. The webcasts themselves proved to be powerful demand-generation solutions; they facilitated timely communication, proved to be highly scalable, enabled on-demand viewing of archived events, and delivered the ability to extend communication both pre- and post-webcast.
The ON24 solution also empowered SAP marketers with a full suite of reporting and analytics tools. "With ON24 reporting, SAP knows who registers, where the registrants come from, and what sources yield the most registrants – and attendees," Heinrich said. Those analytics then enabled SAP marketers to deliver higher-quality leads at a lower cost per lead.
Driving Revenue – and Future Growth
But it's another key metric that stands out in SAP's work with ON24: According to SAP, the company achieved an average conversion rate of 40%, which includes on-demand viewers, and a much higher conversion rate than SAP's previous virtual communication initiatives. As SAP's webcasting series expands the community's reach, adding a greater variety of job roles, titles and industries, the company's marketing team sees plenty of room for future revenue growth.