Wednesday, 29 January 2014 00:00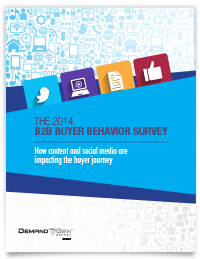 While the sales cycle is getting longer and buyers continued to wait to engage with sales, B2B buyers are more satisfied with the process than they were a year ago.
That was just one finding in Demand Gen Report's 2014 B2B Buyer Behavior Survey. A total of 150 B2B buyers were involved in a major purchase during the past 12 months, revealing some significant trends that impact the purchasing process, including:
The number of respondents who said they were satisfied with their last purchasing experience surged by 57% over 2012 totals;
As many as 40% of respondents said they waited longer than last year to initiate contact with B2B vendors;
As many as 34% of respondents said the number of team members involved in the B2B purchase process increased over the past year;
More than two thirds (68%) of respondents agreed that the number of sources used to research and evaluate purchase has increased over the past year.
For a more in-depth look at this research, fill out the form below to download this report:
---
Demand Gen Report is CAN-SPAM Compliant
Your information will be used for Demand Gen Report marketing emails. This also includes targeted partners of Demand Gen Reprt. To read more about our privacy policy, click here, or to learn about the CAN-SPAM Act of 2003, click here.
If you would like to unsubscribe from future Demand Gen Report marketing emails, please click here.