Tuesday, 22 March 2011 09:19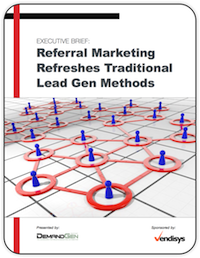 Lead management experts are aligning behind the idea that 2010 was a transformational year during which traditional sales methods began withering with the onset of a new vendor selection process driven by automation, cloud applications and social media. This effect has been chronicled and acknowledged by the BtoB media, and is reverberating through corporate ranks.
Demand Gen Report is CAN-SPAM Compliant
Your information will be used for Demand Gen Report marketing emails. This also includes targeted partners of Demand Gen Reprt. To read more about our privacy policy, click here, or to learn about the CAN-SPAM Act of 2003, click here.
If you would like to unsubscribe from future Demand Gen Report marketing emails, please click here.