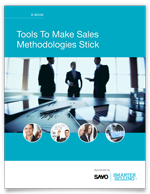 While more of the sales budget goes into training, most of the lessons that sales teams should retain go in one ear and out the other. Leveraging technology can drive short- and long-term results for your sales training and reinforcement.
This white paper covers various strategies in order to boost your sales training, including:
Gaps in the current methods of sales training and reinforcement;
The connection between sales training, reinforcement and forecast accuracy; and
Next-gen tools to enhance your training and reinforcing capabilities.


Fill out the form below to gain valuable sales training leverage!
---