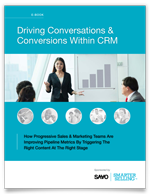 The main focus of converting leads has made the relationship between the marketing and sales teams crucial to the company's bottom line. With CRM systems as the central hub for both the sales and marketing teams to track the behavior of leads through the buying cycle, new tactics are being formed within the CRM to make sure the right message is given to the buyer — at the right time.
The white paper highlights key areas where marketers can enhance their CRM capabilities, including:
How relevant resources and coaching tools can help improve lead conversion and help align the marketing and sales team;
What types of messaging help move deals along more quickly in the early buying stages; and
How to adapt to a sale situation in order to maximize the potential for success.

Fill out the form below to learn new methods of leveraging your CRM system, while closing the gaps internally within your business.
---