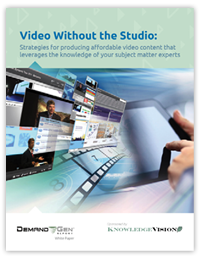 Video content is everywhere you turn. But the challenge is capturing effective video content without busting the budget. This white paper outlines the strategies for producing affordable video content that leverages the knowledge of your subject matter experts.
This white paper offers some budget-friendly ideas for capturing video:
Video content is as close as a camera in your desk drawer;
Going beyond "point and shoot" to create a multimedia production; and
Best practices for using tablets and video production tools effectively
Download this white paper to learn how to capture compelling video content that doesn't require a studio or crew.
---