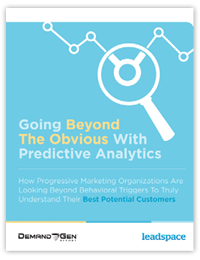 Some things never change. For sales it's always about the leads. For marketing it's all about finding those leads for sales. But, as marketers work to cut through the clutter of email, social media and online content — while B2B buyers spend more time online and on social media during the buying process — many are stuck in the "old world" of analytics to score leads. Other, more progressive marketers are using predictive analytics to find the best leads.
This white paper will show you how using predictive analytics can get you past the obvious, including:
Building Ideal Customer Profiles;
Learning how social indicators can help you understand your true customers; and
Discovering new prospects by leveraging predictive analytics.

Fill out the form below to learn how predictive analytics, alongside Ideal Customer Profiles, can help boost your sales team's numbers!
---