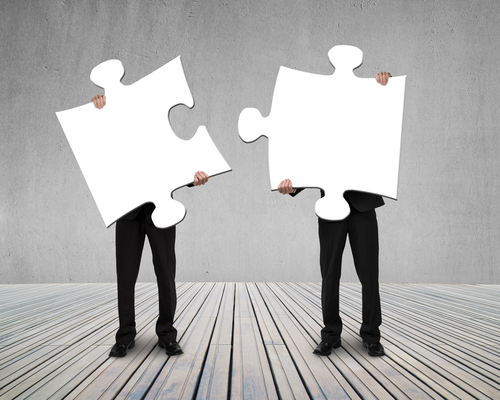 The benefits of sales and marketing alignment have been well documented over the past several years, but many organizations are still not on board. More than half (58%) of respondents rated their sales and marketing operations alignment as "poor," according to research from SiriusDecisions.
Progressive B2B organizations are re-defining the sales and marketing relationship by forming "revenue teams" or "demand gen teams" with shared performance goals. "We've seen an increase in the revenue team model, where members of the marketing team work with sales toward a joint goal to make their numbers," said Chris Tratar, VP of Product Marketing at SAVO Group.
Jim Brodo, SVP of Marketing for Richardson, said: "We're seeing a convergence of marketing and sales into one group that becomes the demand generation group."
Planning is a major disconnect for respondents. A mere 14% reported that their organizations have integrated sales and marketing planning processes, according to SiriusDecisions.
However, sales and marketing teams are having more structured, systematic conversations to establish joint methodologies for taking customers through the entire customer lifecycle, according to Tim Riesterer, CMO of Corporate Visions. "We've certainly seen an uptick in the number of joint meetings and conversations where sales and marketing are putting issues on the table and looking for ways to address them as a team."
Better sales and marketing alignment results in "gold calling" rather than "cold calling," said Dan McDade, Founder and President of PointClear. "With sales and marketing working as a team, the salespeople have the intelligent messaging, timing and cadence they need to close more deals."
To boost alignment, some organizations also have members of the marketing team sit in on sales calls. "I call them 'ride alongs,' and each member of the marketing team has a goal of going out on calls with their sales counterparts," said Liz Sophia McClellan, CMO of North Plains, a digital asset management solution provider.
This process helps marketing understand the needs of prospects, McClellan said. "When the sales team then comes to us and says, 'I need a piece of content to explain this,' we get it, because we've sat in the room as prospects asked the questions."
Better alignment opens up a dialog about the marketing activities the sales team finds valuable, said Rich Levesque, Enterprise Sales Manager, Northeast, for North Plains. "We have weekly calls about marketing plans and sales provides feedback, so we're all in agreement on the strategy."
The process is not always easy, but the payoff has been worthwhile, Levesque added. "We've been doing this for about seven months, and the first few months were hard, naturally, as we put processes in place, but we're now seeing real, legitimate leads that the entire team — sales and marketing — is excited about."
One recurring topic of the sales and marketing discussions is budgeting, McClellan said. "When we were looking at our events budget, we found that trade shows were not an effective use of our resources. We discussed with the sales team how we could invest the money from events into SEM, and that has been a success."
North Plains' sales and marketing team also collaborated on an upgraded web site, which has yielded more quality leads in its first month than the previous web site produced all year, McClellan said. "We talked about what sales would get out of the new site, and some members of the sales team even wrote some content. They had skin in the game, so they were excited."
One area where marketing can play a key role in alignment is helping to develop the sales team's personal marketing skills, such as using social technologies and running personalized mini campaigns. "Just as the marketing organization has transformed its capabilities, the sales person must develop, maintain and capitalize on their personal marketing skills," said Joe Galvin, Chief Research Officer and EVP at Miller Heiman. "If marketing contributes 18% to 34% of the funnel, then how can marketing teach the sales team to use individual marketing tactics to generate additional opportunities?"
ABM And Lead Scoring Drive Better Alignment
Account-based marketing has been gaining traction among B2B marketers, with more than 90% of marketers noting that account-based marketing is a "must-have," according to SiriusDecisions' 2015 State of Account-Based Marketing (ABM) Study, which was unveiled at Demandbase's 2015 Marketing Innovation Summit for B2B.
All of the surveyed companies practicing ABM claim to be aligned with sales, and 34% said they were tightly aligned.
"Sales needs to think differently about what marketing can bring the table," said Megan Heuer, VP and Group Director at SiriusDecisions. "It's not just about having marketing produce sales enablement content like presentations and brochures. It is a shift toward marketing educating their sales counterparts on how customers want to interact in an always-on environment."
Peter Isaacson, CMO at Demandbase, noted that more sophisticated technologies are enabling companies to scale their ABM efforts, which is fueling growth. "Traditionally, marketers have been focused on volumes, and salespeople are focused on accounts that matter most to them. Aligning around target accounts really gets sales and marketing working toward a common goal."
While lead scoring has become more predictive, it is still essential for sales and marketing to agree on lead qualifications, Richardson's Brodo noted. "What we've found is that you really have to work together to figure out [which] activities are the highest converting ones. If a download of a white paper or an article is one of the lowest converting activities, for example, don't give those a high score."
Reisterer of Corporate Visions said progressive companies are going beyond lead scoring to do more extensive qualification of inbound leads before they are handed to sales. This improves alignment, because sales is more trusting that they are getting quality leads, he added. "I see more companies taking that extra qualification step for inbound leads, which has improved that sales and marketing relationship."