Convert Web Traffic into Actionable Sales Leads − with Demandbase Professional
Lead Generation Linked to Real-Time Web Traffic Monitoring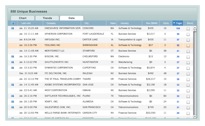 Try Demandbase Professional for FREE with our 30 Day Free Trial.
 SOLUTION SNAPSHOT:
Demandbase Professional™ is an on-demand subscription service that enables you to identify, reach and convert business website visitors in your target market, including those who do not convert or identify themselves by registering. These visitors make up 95 percent of all web traffic − we call them "the silent majority." With Demandbase Professional you can leverage your inbound marketing programs like SEO, search marketing, social network marketing and PR that drive traffic to your site and integrate them with your direct marketing programs − from email campaigns to telesales − to capture the silent majority.  
FEATURES/FUNCTIONALITY:
Daily Lead Report - The Daily Lead Report displays all businesses within your target market that visited the website on the previous day.  A summary of the previous day's activity, including a list of the best business contacts for you to follow up with, complete with contact details, is automatically delivered as a CSV file via email daily and can easily be imported to your CRM or marketing automation system.
WebLeads™ – The most relevant business contacts, or WebLeads, are presented to you within the Demandbase Professional application for follow-up.  Business contacts include full name, title, company, industry, address, phone, and in most cases, email address.  For each business, you see the number of visits and the dates and pages viewed for each visit.
Web Traffic Analytics – Detailed trend reports on web traffic are displayed in an easy-to-read graphical format, revealing historical trends such as percentage of traffic from business demographics such as specific industries or company sizes.  Trends may be viewed by day, week or month
TARGETED USERS:
Demandbase Professional is designed for B2B Marketing and Sales Management Professionals who are focused on new customer acquisition and want to get more out of their online marketing investments.
COMPATIBILITY:
Demandbase Professional works in conjunction with leading CRM and marketing automation solutions.  WebLeads generated from Demandbase can be easily imported into these systems and integrated into your existing sales and marketing lead management processes.

DELIVERY/PRICING MODELS:
Demandbase Professional is offered as a subscription service that is delivered on-demand through software as a service (SaaS), so there is no hardware or software to deploy and users can be up and running in minutes.  Pricing starts at a few hundred dollars per month, and is determined by the montly volume of website traffic and number of WebLeads delivered.

CURRENT CLIENTS/USERS:
Demandbase Professional was released this month and is currently being used by dozens of B2B companies across a variety of industries including high technology, manufacturing, business services, and higher education.

COMPETITIVE POSITIONING:
Unlike other web analytics offerings, Demandbase Professional enables you to identify and filter those businesses who visit your website that you care most about, and turns them into actionable sales leads by combining your targeted web traffic with validated business contacts to dramatically improve your conversion rates.

CONTACT INFO:
Sign up for a FREE 30 Day Trial at http://www.demandbase.com/freetrial/demandgenreport.html
Contact us at marketing@demandbase.com or call (888) WEB-4ROI / (888) 932-4764
www.demandbase.com


About Demandbase
Demandbase is a leading provider of B2B customer acquisition solutions that enable sales and marketing professionals to better identify, reach, and convert new business. Delivered on demand through software as a service, Demandbase solutions combine the ability to identify website visitors from target businesses with an integrated database of high-quality, validated business contacts and a new breed of B2B web analytics to improve marketing and sales performance. In use at more than 1,000- companies, Demandbase helps generate more sales opportunities and drive new business. Founded in 2006, Demandbase is headquartered in San Francisco, California, and funded by Adobe Systems (NASDAQ:ADBE), Altos Ventures and Sigma Partners. For more information, please visit www.demandbase.com.