Tealium Launches Predict Solution Powered By Machine Learning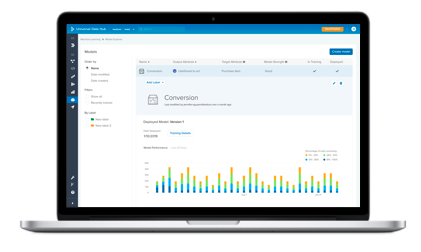 Integrated into Tealium AudienceStream, a data-first customer data platform that is designed to create highly granular, unified customer profiles from every touchpoint, Tealium Predict aims to create and activate trustworthy machine learning insights using cross-channel customer behavior data. Visitors are scored based on the likelihood to complete any action, and then companies can use this score to trigger action in integrated systems across the entire tech stack. Customers can feed machine learning models with pre-cleansed data, use that data to score users demonstrating behavior with predictive potential and take action on that predictive potential all within the same, natively integrated platform.
FEATURES/FUNCTIONALITY
Tealium Predict functions on top of Tealium AudienceStream, allowing brands to leverage this data to trigger immediate marketing actions that can improve retention, conversion and customer loyalty.
Tealium Predict takes AudienceStream to the next level by scoring visitors with the likelihood to return or the likelihood to complete any behavior. These scores can then be used to generate audiences for further proactive action, like a re-engagement campaign for example.
By using both AudienceStream and Predict, data collection and data activation are natively integrated with machine learning intelligence, aiming to help reduce the common challenges of data preparation and activation in most machine learning initiatives.
TARGETED USERS
Tealium works with B2B and B2C enterprises spanning industries including technology, financial services, retail, e-commerce, media/publishing and healthcare.
COMPATIBILITY
Tealium has more than 1,200 turnkey and customizable integrations in its marketplace available at no extra cost to its customers. Integrations span tags to pre-built connectors, to APIs and webhooks. These integrations support client-side and server-side vendors and technologies, including top names like Adobe, Facebook and Google.
DELIVERY/PRICING MODELS
Every customer gets a deployment plan and dedicated account manager for ongoing support. Typical deployment, including customer training and setup, is completed within 90 days. Tealium also has an online ticketing system for questions and assistance.
COMPETITIVE POSITIONING
Tealium Predict is designed to offer brands the simplest, lowest-risk option to begin machine learning initiatives that deliver quick value. For more advanced users, Tealium aims to greatly reduces data preparation challenges and ease deploying machine learning insights to activate them in downstream systems.
CONTACT INFO
Tealium
11095 Torreyana Road
San Diego, CA 92121
CC: Dave Lucas
Email: dave.lucas@tealium.com