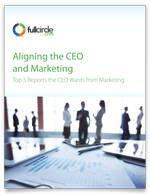 Revenue. It's what drives a business and what drives a CEO. But, it isn't always easy to connect-the-dots for him or her when it comes to marketing's impact on the bottom line. By measuring and tracking marketing campaigns in the company's CRM system, the proof will be there in the systems reporting.
This white paper highlights the top five reports that will wow the CEO and show marketing's contribution to the bottom line, including:
How much business the marketing team is building for the sales team;
The speed or velocity of responses passing from stage to stage; and
The amount of pipeline or potential revenue generated versus other demand gen channels.
Fill out the form below and learn which reports will help make your CEO realize marketing's impact on revenues!
---