Brainshark Debuts Sales Coaching and Prospecting Solutions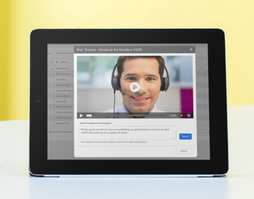 Sales enablement solutions provider Brainshark unveiled new offerings designed to increase sales productivity by enhancing coaching and prospecting effectiveness. The company's new coaching capabilities aim to enable sales managers to train their team, while a new integration with Microsoft Outlook allows reps to find and send sales content within their email.
The company's new coaching capabilities were designed to enhance its current sales coaching system. The current system allows managers to issue challenges to reps. For example, challenges can include delivering a presentation, providing a demo or rehearsing sales messaging. Managers can then provide feedback, ratings and scores.
The additional capabilities include:
Challenge attachments, which allow managers to attach any type of document to assist reps in completing their challenges. The materials can be viewed on any device;
Leaderboards, which provide team-wide access to sales reps' challenge responses, encouraging friendly competition and enabling reps to learn from their peers; and
Peer collaboration, which allows any sales team member to provide real-time feedback.
The new integration with Microsoft Outlook aims to increase sales efficiency by providing reps with instant access to sales materials. It will allow reps to:
Search for, insert and email sales content directly from Microsoft Outlook. Users also can embed and size Brainshark videos, so they play directly within customer and prospect emails;
Use multiple filtering and view options to discover the right content;
Preview content prior to insertion; and
Track interactions to see when the email was opened and the level of prospect engagement with the content.
"The sum total of these new offerings and enhancements underscores Brainshark's role as a sales enablement leader," said Brainshark CEO Greg Flynn, in a release. "We're committed to continual innovation so our customers can make their numbers and make their sales teams great. With our comprehensive capabilities, companies every day are maximizing sales productivity and winning more business."