Highspot Unveils Content Sharing, Analytics Updates To Sales Enablement Platform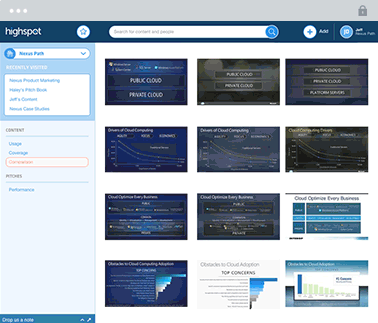 Highspot, a sales enablement platform provider, launched product updates designed to offer a seamless customer experience, while also boosting content performance and analytics.
Among the new features is Slide Cast, a tool that positions sales reps to share content directly to a browser window without the need of a client-side app. The release also includes Highspot Analytics, which aims to support marketing and sales with insights to boost performance and make more informed business decisions.
Other features include:
Customer Portals for sales reps to share content with their customers coupled with content engagement analytics;
Content Genomics that offers reports to track the evolution of content, or how sales reps alter content to meet their prospect's needs; and
Deeper analytics across content usage, engagement and comparison.
"Sales rep usage and customer engagement is the lynchpin to sales enablement. If sales reps don't use the platform, nothing else matters. Great user experience is what drives Highspot's incredible adoption rate with companies seeing 90% of sales reps actively use the platform" says Robert Wahbe, CEO and founder at Highspot. "We continue to push the envelope in sales content management, online sales presentations, and sales enablement analytics."