Study: 56% Of B2B Decision Makers Gain No Value From Thought Leadership Content
Written by Matt Halchak, Contributing Writer

Published in

News Briefs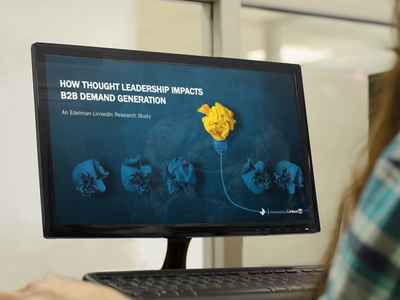 Despite the known potential of thought leadership content in B2B campaigns, many decision-makers are disappointed with the quality of available thought leadership insights, according to new research from Edelman, the global marketing firm, and LinkedIn. More than half (56%) of respondents agreed that they do not gain valuable insights from the thought leadership content they consume.
The How Thought Leadership Impacts B2B Demand Generation study, which surveyed more than 1,300 business decision makers and executives, aimed to understand how thought leadership influences the behaviors of decision makers in the B2B purchase process.
The study determined that:
Eighty-six percent of thought leadership consumed is considered merely good, mediocre or poor in quality;
Forty-five percent of business decision makers and 53% of C-suite executives reported that they sometimes lost respect and admiration for organizations that produced thought leadership content that was not high quality, insightful or relevant; and
Thirty percent of business decision makers and 35% of C-suite executives removed companies from consideration after engaging with what they viewed as poor thought leadership content.
What Do B2B Buyers Want In Their Thought-Leadership Content?
Decision makers want thought leadership that is timely, relevant and substantive, according to the study. More than three-quarters of decision makers (78%) and 79% of C-suite executives noted that successful thought leadership content provided insights on specific trends and challenges within their respective industries.
Thought leaders should aim to identify the drivers of relevant issues and propose a plan in a concise, easily consumable form. Seventy-one percent of decision-makers and 67% of C-suite executives preferred content in short form, three to four-page documents that can be easily absorbed.
"Earning the trust of customers is vital in the B2B buying process, where investments are large and the professional reputations of decision-makers may be at stake," said Joe Kingsbury, U.S. Managing Director of B2B at Edelman, in a statement. "The study points to a reality many marketers have struggled to quantify: the ability to demonstrate valuable insights about trends and customer challenges is critical for engaging with senior executives and can lead to tangible, positive business outcomes."