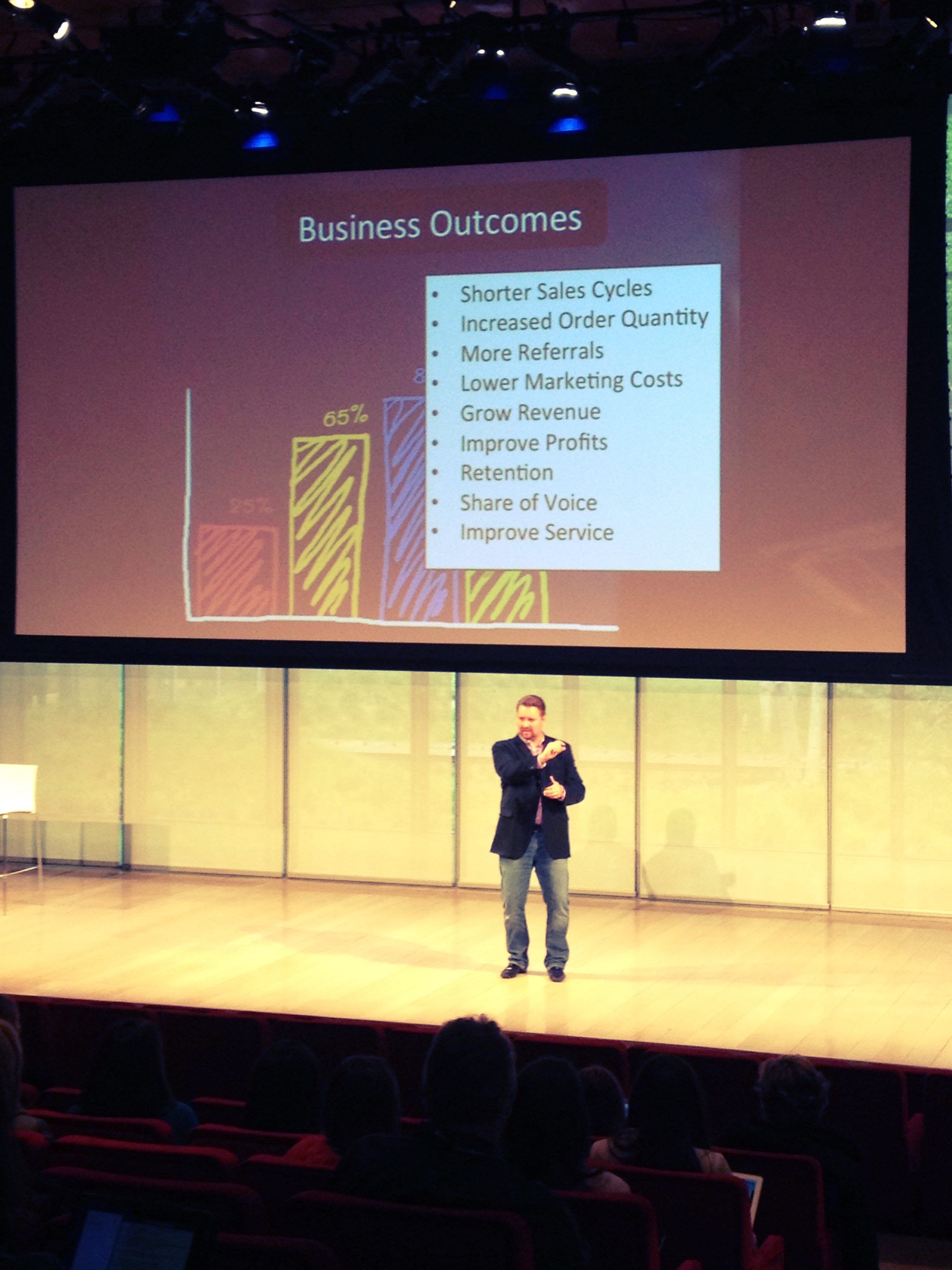 B2B buyers not only have to connect with buyers through engaging content, but they have to anticipate their future needs. That was one of the key points made by Lee Odden, CEO and Founder of TopRank Online Marketing in a session at the B2B Content2Conversion Conference hosted by Demand Gen Report.
"Empathize with that customer journey and anticipate, maybe through search, what they're interested and what they're looking for," he said. "Visual media is clearly something that is resonating with a lot of people."
Odden cited a study conducted by Adobe and Econsultancy identifying content marketing as the top priority for digital marketers. In fact, 54% of marketers are increasing their spending on content marketing this year, but he cautioned that money will be ill spent if marketers cannot identify with their customers.
While 87% of B2B marketers are using the usual social channels such as LinkedIn, Twitter and Facebook, new channels are always emerging, he said. He pointed to a MarketingProfs report that indicated 26% of B2B marketers are now using Pinterest, a channel that was not on last year's list.
It Begins With Search
The customer journey starts with search, Odden said. Google receives 100 billion searches per month and 16% of daily queries have never been searched before. To capitalize on this opportunity, 60% of marketers have adopted inbound marketing strategies and 34% of all leads are from inbound, according to Odden.Search and content are complimentary.
"Anticipate demand with search and create demand with content," advised Odden. "When you understand what the buyer cares about, that should inform your content strategy."

Potential buyers that utilize LinkedIn for recommendations on partners and service providers often search and validate the suggestions. Empathizing with this experience and using it as a premise to optimize online marketing is the most effective way to study the sales cycle.
How To Produce Content That Goes Viral
The viral potential of any piece of content also begins with empathy and anticipation, according to Odden. Companies should be considering how their target audiences discover content on the web, what they're searching for, what they talk about, what type of media engages them and most importantly, what they like.
Odden cited a Stalking Dead infographic by HostWay as an example of content with viral potential. The comic-themed content presents cyber-security threats as zombies who are slain by a samurai. "That emotional connection of, 'Oh yeah, I like that!' opens up the door mentally and psychologically to the consumer to dig in," said Odden.
However, HostWays did little to promote the infographic outside of releasing it for free and using some paid ads. The infographic was fun, informative and relevant, but it wasn't amplified, Odden said.
Odden broke down viral content into three elements:
Discover: This is how buyers find content, either through search engines, advertising, events or word of mouth.
Consume: This is the format the content is presented in, as text, images, audio, video, mobile, length or mood.
Act: This is how buyers react to content, by sharing through social media, commenting, subscribing, registering or buying.


All these elements should be easily accessible to buyers. "A lot of optimization is just about making things easier," said Odden. "Making it easier for search engines to find your content, understand what the heck it is and reward you for doing what they need to show up highly."
Optimizing For Ease
Since search is a common way to find content, companies must invest in catching buyers as they are coming and going.
"You want to formulate your content and the language you use to promote it to create anticipation," Odden said.
Odden encouraged every company to master the basics of search engine optimization (SEO), starting with optimizing SEO for fewer, more specific terms instead of trying to cast too wide of a net. Too many terms will end up competing with one another. Implementing keywords, social topics and social proof of sharing should be shown prominently. When people see content that is already viral, it inspires them to share more.
Conducting a technical SEO audit will vastly improve traffic. Page speed, structure, organization and site architecture may not amount to much on their own, but added together, they cripple or fortify a marketing campaign.
Most importantly, the content itself must be worthy of being promoted manually through channels such as Pinterest, Twitter, LinkedIn and reddit.
Good content will not do much on its own without execution and execution without good content will not spread. Odden championed a holistic approach to content. Companies that view content from all angles, optimize all processes and research the incoming data will find greater success in content marketing.
---
A special thanks to everyone who joined us at this year's B2B Content2Conversion Conference. For all those interested in viewing a recording of this session and others, please click here.