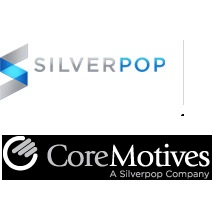 Since being acquired by Silverpop a year ago, CoreMotives has increased billings by 136% and added more than 270 customers, bringing the total to 1,500 brands currently using the tool to deliver marketing campaigns from within Microsoft Dynamics CRM.
Demand Gen Report spoke with Rhett Thompson, Co-Founder of CoreMotives, and Ellen Valentine, Product Evangelist for Silverpop, about the status of the partnership and the future.
Demand Gen Report: What has been the impact of the acquisition on the company's offerings?
Ellen Valentine: It has really been a positive experience all around. From the Silverpop perspective, we wanted our customer to have options. We really wanted to be a full-service provider for a wide range of customers running their businesses on the Microsoft platform.
CoreMotives is part of Silverpop's toolset for Microsoft Dynamics CRM marketers. We also offer Microsoft Dynamics CRM integration with the Silverpop Engage platform.
Silverpop is highlighting its full set of Microsoft Dynamics CRM offerings at Microsoft Convergence, where we are a Gold sponsor. By offering CoreMotives, a native application within Microsoft Dynamics CRM that allows marketers to quickly and efficiently deploy marketing campaigns, and the Engage integration, which is designed for marketers with more advanced marketing automation or higher-volume email marketing needs, Silverpop provides a comprehensive set of marketing tools to Microsoft Dynamics CRM users.
Rhett Thompson: We're further penetrating the Microsoft channel, developing strategic partnerships and adding some of the best brands from around the globe to the CoreMotives customer base. Silverpop's commitment to the Microsoft space is evident and we continue to be excited about the key role CoreMotives plays in the company's overall strategy.
The fact that the entire system is within the Microsoft Dynamics platform is a big benefit for marketers. Having the entire customer lifecycle process inside the Microsoft system is extremely efficient.
We had a great base of clients before the acquisition, and that has just continued to blossom, particularly in the area of sports. Some of the customers who selected CoreMotives since March 2012 include the Seattle Seahawks and Sounders FC, Magenic, Honda Center and Anaheim Ducks, Bluetooth and Levick.
Also within the last year CoreMotives has become available in more than 11 languages, with Chinese and Japanese coming soon.
DGR: How are the Silverpop Engage and CoreMovtives offerings positioned?
Thompson: It really depends on the size and complexity of the organization. The CoreMotives offering allows marketers to develop and execute their marketing efforts from within the Microsoft Dynamics CRM interface they are already comfortable using. For those marketers who need to send a high volume of behavior-driven emails, Silverpop's Engage integration provides the scalability they need to deliver individualized experiences to almost limitless numbers of contacts who are all craving relevant content.
DGR: What's next?
Valentine: Microsoft's CRM is No. 2 in the CRM space and we continue to see opportunities there. We also integrate with Salesforce.com, and are working on an integration with NetSuite and will be exhibiting at SuiteWorld in May. We will have integration with the three market leaders in CRM.
Rhett: We track nicely with all of the Microsoft releases, and they continue to streamline their interface to be more modern and intuitive. Social and webinar integration continue to be big areas of growth as well.