Demand Generation Strategies
Written by Brian Anderson, Associate Editor
Wednesday, 11 March 2015 11:41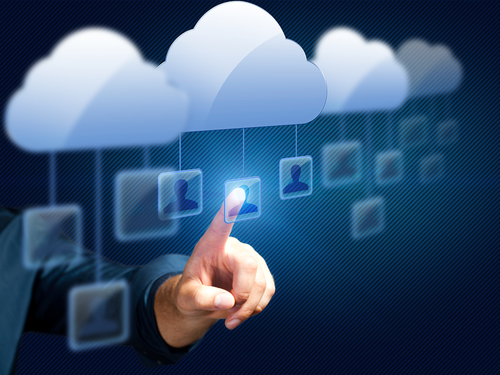 Following several years of hype and some debate over competing concepts, the marketing cloud is becoming a reality. Companies such as PR Newswire are seeing an increase in leads and engagement through the integration of marketing activities under the marketing cloud.
Personalization is among the key benefits of marketing clouds, as they offer B2B marketers the ability to collect data on how prospects are interacting with the company through their buying journey. Marketers can track and access prospect insights from a central location, where the data can be leveraged for a range of marketing activities.
Read more...
Rich Media
Wednesday, 11 March 2015 00:00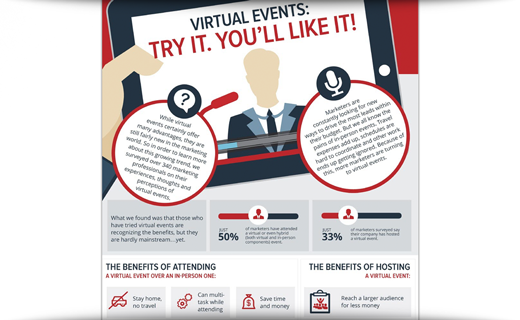 While virtual events offer advantages such as lower costs per lead compared to in-person events, they have not been widely adopted by marketers. Only one third of marketers have tried virtual events, according to this infographic from InterCall. The conference and collaboration services provider surveyed more than 340 marketing professionals on their experiences, thoughts and perceptions of virtual events.
Read more...
Industry News
Tuesday, 10 March 2015 08:41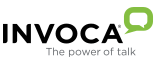 Invoca, a provider of call intelligence technology, unveiled a new version of Invoca for Search that links mobile and desktop clicks with call data.
The company's search marketing suite is positioned to provide marketers with insight into the consumer's path to purchase as they search on any device, and move from online to offline.
Read more...
Marketing Analytics
Monday, 09 March 2015 09:53

Investment into data analytics tools is predicted to increase in 2015, according to a recent study from ON24. The study shows that a majority (97%) of B2B marketers find that using data analytics has shown enhanced results in marketing campaigns, and 87% of respondents stated they plan to increase marketing analytics spend in 2015.
The survey, conducted by Redshift Research, surveyed more than 220 B2B marketers on how marketing analytics are being leveraged within their organizations. The research also examined expectations for Big Data's role in the workplace.
Read more...
Industry News
Friday, 06 March 2015 16:40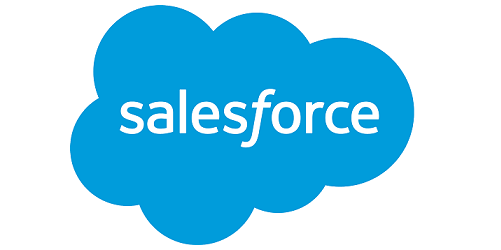 Salesforce launched Predictive Decisions for the Salesforce Marketing Cloud, which is designed to provide users with access to data intelligence from their CRM and marketing databases to increase conversions and engagement.
The new platform is positioned to help marketers leverage data science to analyze customer engagement and proactively deliver new content, products or offers that bring relevancy and resonance to customers through any channel.
Read more...
<< Start < Prev 1 2 3

4

5 6 7 8 9 10 Next > End >>


Page 4 of 308
Demanding Views
By Braveen Kumar, Uberflip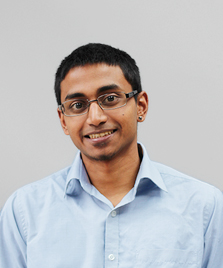 Sooner or later, when they receive enough attention, useful advice and content marketing tactics run the risk of giving birth to buzzwords and generalized best practices.
Somewhere down the line, we lose sight of their initial usefulness or, worse, how they've evolved over time. It's worth taking another look at these "best practices" to revisit their real value and relevance.
Read more...
Bulletin Board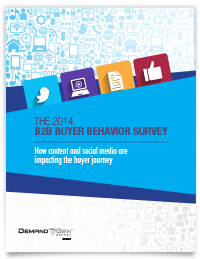 Demand Gen Report's 2014 B2B Buyer Behavior Survey provides insights into how B2B buyers make their decisions. Buyers are waiting longer to engage with sales, but they are more satisfied with the process than in years past. For an in-depth look at this research, download the report now!
Solution Spotlight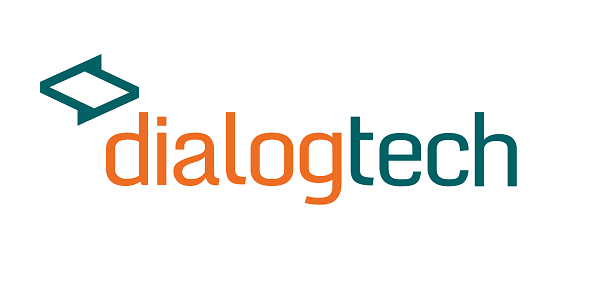 The DialogTech Voice360 platform is a call analytics and automation solution designed to help marketers drive conversations with prospects that enhance revenue opportunities and maximize ROI.
Read more...
Follow Us
Industry Events
When: March 31 - April 1, 2015
Where: San Francisco, CA
MarTech is a vendor-agnostic forum for understanding the breadth of marketing technologies and how organizations can effectively integrate them into their marketing strategy and operations.
Read more...
When: April 14 - 15, 2015
Where: New York, NY
In the age of the customer, marketers face three acute strategic and operational challenges: how to connect with distracted, empowered customers; how to engage customers once those connections are made; and how to nurture customer obsession as a strategic imperative throughout the organization. This Forum will teach you how to build and lead a next-generation marketing organization focused on customer obsession.
Read more...
When: June 8 - 11, 2015
Where: Chicago, IL
eMetrics Summit is the only comprehensive event dedicated to digital analytics and marketing optimization. As the leading conference covering the impact of data & technology on marketing, the eMetrics Summit focuses on driving business results through data analysis and technology adoption.
Read more...