B2B Innovator Spotlight: Güçlü Ozsayin, Samsung Electronics France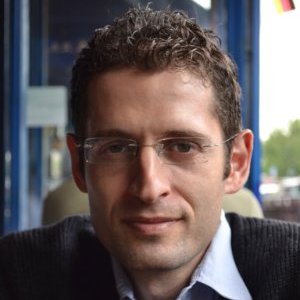 As Head of CRM & Digital — B2B at Samsung Electronics France, Güçlü Ozsayin built and executed a digital demand generation strategy and continuously collaborates with key stakeholders, and content and technology providers to oversee the implementation of automated lead generation and nurturing campaigns that align with business goals.
Samsung Electronics Co. created the Samsung Business division to start supporting companies and administrations in their digital transformation. Ozsayin has helped grow marketing contribution to sales pipeline from 5% to 40% in just 18 months.
Read on to learn more about Ozsayin's program, with which he won a B2B Innovator Award for in September.
How have you helped try to foster a culture of innovation within your team and organization?
Continuous innovation has been one of the three axes of my team management, along with other two axes: revenue generation and collaboration with marketing and sales teams.
I implemented a simple tool which helps coordinate these three axes to spare enough time for innovation despite our very busy and ambitious agenda.
Each task is measured and scored [on a 1-5 scale] based on its contribution to these three axes and its weight on daily work.
The objective is to move upright as much as possible and by repeating this analysis every quarter, we are trying take the right action plans to hit our target.
Why do you think innovation is important in today's B2B marketing landscape? Do you see a need for traditional approaches to be transformed?
Innovation is the key to succeed and to differentiate your brand's accessibility to your audience from the digital noise around. The market is now more than crowded and innovation lets us be present on the right time, right place with the right customer understanding.
Aside from creating a premium customer experience, innovation makes our daily life intellectually more interesting, stimulating and engaging.
Do you feel like B2B marketing needs to shake things up a bit to avoid being boring and dry? How have you tried to address this?
I haven't had any day yet when I got bored. It is enough to have a look to Scott Brinker's martech landscape to get some fresh ideas. However, I remember long and tedious days before my orientation to demand generation and technology marketing.
What solution providers or partners help you and your team drive innovation?
We are using Oracle Eloqua (including Content Marketing, formerly Compendium) and Salesforce.com. We also recently [tapped] TechTarget for ABM purposes, which is a priority project for us.
To improve customer engagement, we work with SurveyMonkey and are planning to integrate SnapApp, as I strongly believe in interactive contents. We also regularly work with an Oracle partner — Engagement Factory — which helps us shoulder some technical work, develop indispensable buyer personas and bring up fresh ideas.
What does the future have in store for your efforts? Anything interesting planned?
We want to move from lead-based marketing to account-based marketing, while developing stronger collaboration between sales and marketing will be our priority.
Sirius Decisions' latest Demand Unit is the key model to implement quickly, as lead generation based on individuals has reached its limits to address large accounts with many decision makers and complex buying funnels.
Any Fun Facts/Interesting personal notes you would share, on hobbies, interests, personal accomplishments that other B2B peers may find interesting?
I love reading and traveling to discover and understand the history of our civilization. It helps me have a completely different state of mind, which is not only relaxing but also helps me understand today's social trends to prepare and project a better future.
---
To learn more about Ozsayin and the rest of the inaugural class of B2B Innovators, immerse yourself in this interactive awards report.
An avid B2B journalist with a knack for all things trendy in the POS, mobile and social space.