VanillaSoft CRO Sheds Light On Company's Autoklose Acquisition & Announcement Campaign
Welcome to my blog series, "Behind the Marketing," which is inspired by the classic VH1 series, "Behind the Music," but with a B2B marketing twist. Each month, I spotlight a cool, eye-catching and thought-provoking campaign or project — and the marketers behind them.
This week, I had the chance to speak with Darryl Praill, Chief Revenue Officer of VanillaSoft, to learn more about the company's acquisition of email automation platform Autoklose, and the campaign they launched to promote the new integrated offering of email marketing and cadence tools. Keep reading to get the full scoop!
Sal LoSauro: What was the inspiration for this campaign?
Darryl Praill: Oh boy, now that's a question I would love to answer. VanillaSoft recently acquired Autoklose (an all-in-one outbound email automation platform), in case you haven't heard. So, obviously, we knew we had to set up a campaign to announce to the world that this acquisition took place and what it means for the future of sales engagement.
With our integrated offering, customers will be able to:
Nurture leads pre- and post-sale with email campaign and cadence tools;
Engage with prospects via a single- or multichannel approach depending on where the buyer is in the sales cycle; and
Access the Autoklose database of 40,000,000 validated B2B contacts.
Sales leaders and sales reps alike will find that our integrated offering can help them supercharge their B2B sales process and make team members more productive.
While the acquisition was the catalyst for this campaign, the messaging and execution's inspiration sprang from our excitement around the incredible new capabilities our solutions will bring to sales teams.
SL: How many team members were involved in developing the concept/theme?
DP: Let me start by saying, the two teams from VanillaSoft and Autoklose kicked ass on this campaign. We had a total of 14 team members take part in planning and executing.
Keep in mind that these two teams just met, had never worked together and are scattered across two continents, four different countries and multiple time zones. The fact that they pulled off this campaign in just two weeks speaks to their talent, dedication and professionalism.
SL: Did you use multiple assets to support the theme? Which ones were the most successful?
DP: We incorporated many different types of assets in the campaign. We used press releases, emails, blog posts, videos (recorded and live-streamed), social media posts, landing pages, custom graphics, FAQs and CTA banners and pop-ups. I'm not just talking about one of the mentioned assets for the two organizations combined; we did the whole shebang for both VanillaSoft and Autoklose audiences. It was really like two separate (but related) campaigns.
We also briefed multiple analysts, industry influencers and some of our existing customers so that they could help get the word out and share their thoughts on the acquisition. We made sure to include some of these individuals in the official live stream announcement as well.
We created the core messaging and built the assets around that, delegating the tasks to different team members and maintaining a master checklist to ensure we hit our target dates and successfully achieved our goals.
Honestly, the activities that had the most significant impact were the more personal ones. The most successful activities were:
Videos distributed on social via individual accounts;
Personalized videos sent to 50 industry influencers from specific executives at VanillaSoft and Autoklose;
A live stream video announcement featuring an industry influencer that was shared with VanillaSoft and Autoklose customers, two CEOs and other personnel; and
Engagement with influencers and analysts that expanded our reach and gave us additional visibility.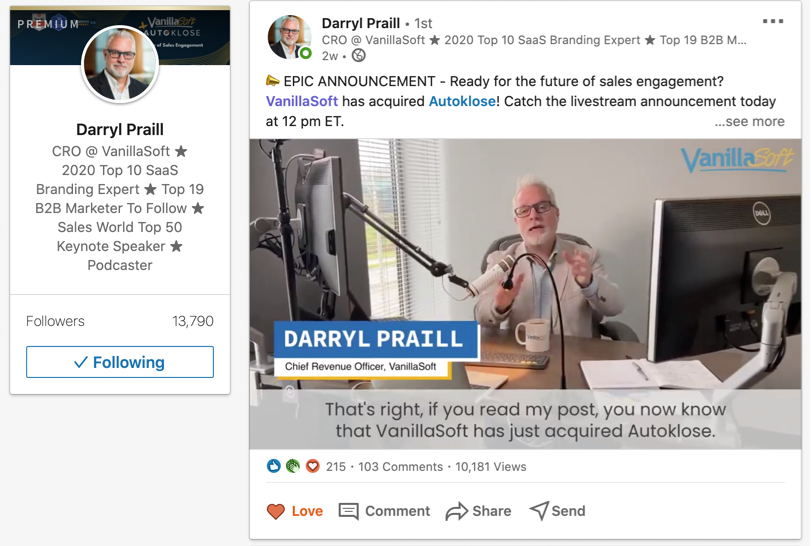 SL: How did you manage the actual announcement?
DP: We planned the news release for 10 a.m. ET. At 9:30 a.m., we shared a very thorough FAQ with all of our employees, along with a pre-recorded, five-minute "What you need to know" video so that they knew what to expect and how to respond to anticipated inquiries from prospects, customers, partners and journalists. We controlled the message.
We then issued all of our personal social media posts, had all our new Autoklose employees update their LinkedIn profiles to say "VanillaSoft" and had all employees update their LinkedIn banners.
At 10 a.m., the websites were updated and included links and calls-to-action for more information. The emails were sent to all stakeholders; the news embargo was released; and every recipient was pushed to watch our live stream at 12 p.m., where we shared the story behind the move. That gave two hours for the hype to kick-in from industry influencers and to drive participation in the live stream.
This was a well-coordinated plan and the entire team at VanillaSoft played their roles perfectly for maximum impact.
SL: Results, what came out of this campaign? (ROI, Pipeline, conversions, etc.)
DP: All of the activities previously mentioned yielded exceptional results in terms of reach, booked demos, free trials and engagement. Many relevant sales magazines and analysts also reached out to cover the news — and who doesn't like free PR coverage?
Here's a breakdown of some of the numbers we experienced:
Social posts and newsletters reached over 0.5M industry professionals;
55 demos booked in two weeks;
Over 100 free trials in two weeks;
Over 50 PR, magazines and analysts picked up the news; and
The overall engagement on all channels was through the roof.
VanillaSoft GA:

Autoklose GA:

SL: On a lighter more personal note — it would be great to have you answer these two questions:
How did you start in marketing?
DP: It was really a two-part process.
Part one started in high school. I was a loner and outcast. Like everyone else, I wanted to be accepted, so I studied the cool kids to find out why others accepted them. I found that for me, humor was the great equalizer. If I could make people laugh, I could get their attention and they would like me, which is a key component of marketing.
The second part of my process started as a software developer. Yes, I was a coder. I got burned out as a software developer, and my family told me that I would be good at sales. So, I gave sales a shot and started my first sales job selling photocopiers door-to-door. I bounced around from sales to software development to sales engineer to product management to product marketing to VP of Sales to CMO.
I had an epiphany that I love sales, and I'm good at sales, but sales is not what makes me happy. Marketing makes me happy. So, I shifted my career to marketing. Now, I'm in the ultimate position as CRO and having the best of both worlds with sales and marketing.
SL: Favorite band you'd love to see a BehindTheMusic special about?
DP: ZZ Top would be a great one to check out! I may even grow my beard out like theirs. Make sure to follow me on LinkedIn or Twitter to see my new look!