B2B Marketers Must Leverage Actionable Data To Direct The Customer Journey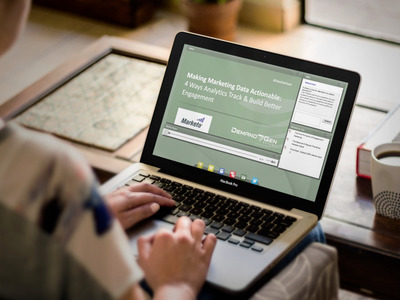 With 70% of the buyer's journey being directed by the customer, progressive B2B marketers are using data to help drive prospects through the funnel more efficiently once they do engage. This was just one of the many topics discussed in a recent webinar hosted by Marketo and Demand Gen Report.
"[Traditionally], marketing was only responsible for making prospects aware of their brand," said Mike Tomita, Senior Marketing Manager at Marketo, during the presentation. "Now, marketing has the responsibility to direct that customer's journey and build that relationship up to a point where the prospect can be handed off to sales."
In this new role, B2B marketers need to formulate a process to increase engagement while also providing prospects the content that they need to move further along in the buyer's journey. Using insights gained through all channels can help marketers take action, and direct buyers down the right path.
Tomita highlighted four ways marketers can begin leveraging actionable data to boost engagement:
Leveraging Event Tracking
Tomita noted that event tracking, which he called a "surprisingly under-utilized" tool, can provide insights into user behavior and how prospects are engaging with every aspect of a web site. "So by referring to event tracking, you can tie back information to your initiatives to increase engagement and build relationships."
Actionable Data = Enhanced Personalization
There are a number of tools to analyze data and enhance personalization, Tomita explained. Using Google Analytics and event tracking, for example, Marketo was able to segment site visitors by industry and offer relevant content. "The visitor then knows that we have something that applies to them, and that relevancy helps start that engagement and build a personalized relationship."
Identify Where Traffic Is Coming From
Identifying traffic sources helps marketers figure out the ways you can present offers, or match expectations based on where traffic is coming from. Tomita noted that marketers have to analyze their data by source; each source is not created equal, and they all have different expectations for the visitor.
"Each channel is different, and the user will act differently on each channel," Tomita added. "So marketers have to analyze how they interact in each channel in order to personalize engagement to meet their expectations."
Measure And Evaluate Program Success
While marketers have traditionally attributed leads to a single marketing campaign, Tomita noted that multi-touch attribution provides a more complete view of overall engagement. "It's hard to fight for budget based off the value you place on this engagement, but if you are tracking that engagement, you can prove the value of other programs happening between the initial and final touch."
Click here to view the on-demand version of the webinar.