MME15: B2B Marketers Must Align Campaigns And Data By Customer, Not Product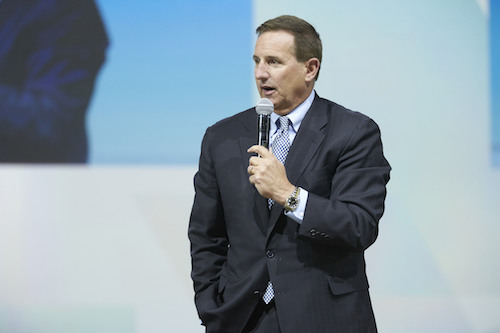 The companies that align their marketing efforts and data with the customer journey are the ones that are going to succeed. That was the message from Mark Hurd, co-CEO of Oracle, as he delivered the keynote address at Oracle's Modern Marketing Experience.
"Too often, we see marketing campaigns that are aligned by product, department or channels," Hurd noted.
Hurd shared statistics from an Oracle study highlighting how the customer views the buying experience:
86% of consumers will pay more for a better customer experience;
89% of consumers switched to a competitor after a poor experience; and
78% of customers say they do not receive consistent experiences across channels.
"Companies were in control up until 2000," Hurd added. "But now the customer is in the driver's seat. Embrace that and thrive."
Marketers have to master data at all levels to meet internal and external pressures, Hurd explained. "What do CEOs care about? Business agility and entering new markets. Marketing has to be at the forefront."
One of the biggest marketing hurdles is not a lack of data, but a lack of insights. Citing Forrester Research, Hurd said that 82% of departments struggle to bring customer data together. "There has to be a singular view of the customer," he added.
The key is using data to craft personalized content, Hurd noted. "Customers like marketing that is customized for them, and that requires using data to understand the customer across all of their interactions with your company. Too often when I get a message, it doesn't mean anything to me. If you explain how it is going to benefit me, I'm more likely to engage with you."
Marketers also need to leverage customer insights to be more proactive in supporting sales, Hurd said. "You have to use the data about a customer to help sales sell, even before they know they need the help. Alignment of marketing and sales processes is the difference between business success and failure."
One roadblock to better marketing and sales alignment is stale leads. For example, Hurd noted that it could take more than four days for a lead to get to the sales team. "Even just a couple days later, the prospect has forgotten why they inquired and you're back to zero."
Marketing needs to support every step of the sales process, according to Hurd. "When we sell a database product, we might have 17 engagements with customer — in-person event, emails, webinars — before the deal closes," he noted. Marketing has to look beyond its top-of-funnel responsibilities for driving prospects through the entire customer lifecycle.
Social also has changed how buyers interact with companies, especially when they are dissatisfied. "I can tweet, I can make a video and post it on Facebook. I have access to an incredible audience and can get to them in real time. It's changed the leverage model," Hurd added.
Hurd argued that marketers who use predictive data models should not try to satisfy all customers, but rather weed those potential dissatisfied customers out of the process. "The role of analytics is not to figure out how to deal with unhappy customers, but how not to get them to begin with. You have to do a better job upfront at using data to attract the right customers, because you can't afford the downstream negativity."
Marketing Needs To Drive Revenue, Not Just Brand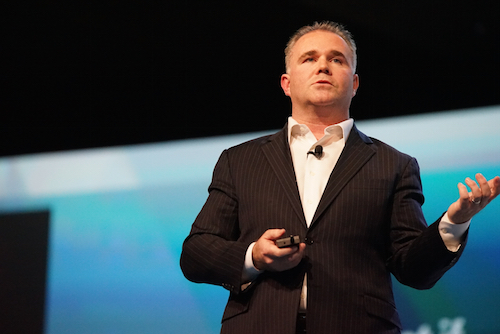 Marketers need to learn the language of finance, according to Kevin Akeroyd, General Manager of Oracle Marketing Cloud.
During his keynote address, Akeroyd explained how marketing must take a leadership role in driving business decisions. "Marketing has to become a trusted advisor to the board," he added. "They have to do more than show up at a board meeting for a half hour, give presentation and leave."
Understanding how to drive business has to go beyond the balance sheet, Akeroyd added. "We still want to build and invest in our amazing brands and build best-in-class marketing programs. But we can't continue to optimize lead generation in the short term and under-invest in long-term relationship building. Is marketing carrying its weight? Is marketing a profit center?"
Akeroyd outlined four myths that can hamper marketing efforts:
Myth #1: We can define the customer journey. "The reality is that customers follow different journeys every day," Akeroyd noted. "Marketers have to watch, listen and learn along the customer journey."
Myth #2: Big Data will solve everything. "The truth is that we're drowning in data, but 90% of data never gets used," Akeroyd said. "What we need is the right kind of data in the right place — next to the customer communication channel."
Myth #3: Content is king. "Cool creative, a beautiful web site and a decent blog does not mean you have a good content strategy," Akeroyd said. "What is needed is content in context. Use content to drive thinking. It's not the end of the journey. You can use it as more than an afterthought."
Myth #4: We need more technology. "Estimates are that we've got anywhere from 1,000 to 2,500 marketing tools available," Akeroyd said. "The truth is we have too much technology — amazing piles of technology. It is more about technology that works and is integrated."