Study: Communication Is Greatest Challenge For Sales And Marketing Alignment
Featured
The lack of alignment between sales and marketing is an age-old problem that is often lamented, yet rarely solved. A new survey report, conducted by Demand Gen Report and sponsored by InsideView, shows the lack of alignment is actually becoming a bigger problem today and the disconnect is having a direct effect on bottom line performance.
Crack The Code Of Sales And Marketing Alignment uncovers why sales and marketing teams are not aligned. These findings not only expose the quantitative measures of effects on performance, but also expose underlying attitudes that fuel misalignment pain.
Interestingly, both sales and marketing say contention over leads isn't the top contributor to misalignment. Communication, cited by 49% of respondents, is by far the greatest culprit. Broken and flawed processes (43%), as well as sales and marketing being measured by different metrics (40%), rounded out the reasons for the gap between sales and marketing.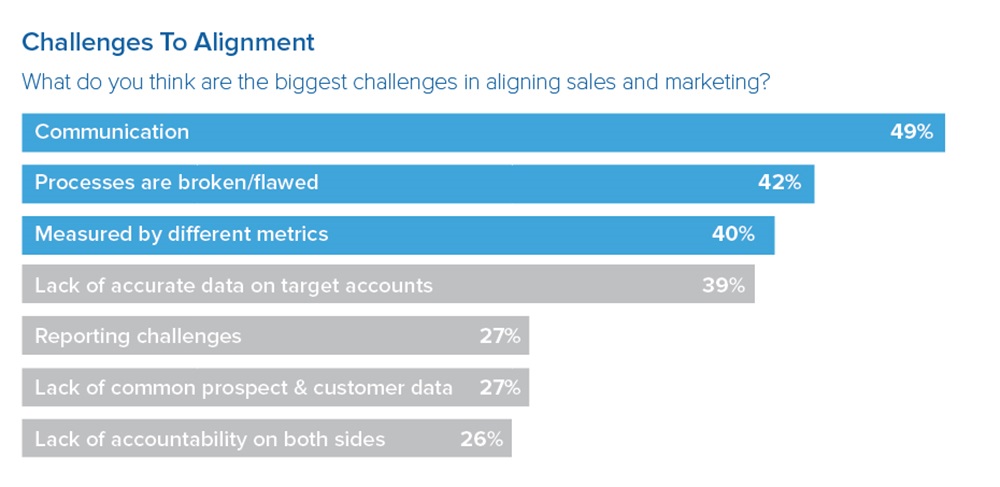 The communication breakdown has many dimensions, such as how leads are converted and what levers might be affecting performance and close rates. That means marketers won't be able to identify where lead quality issues may be occurring.
When we asked salespeople to prioritize what they need most from marketing, lead quality (55%) and lead quantity (44%) registered high, but they also seek competitive information (39%), brand awareness(37%), and lead nurturing (37%).
When we quizzed marketing executives on the same question, they told us better lead follow-up (34%) and consistent use of systems (32%) were what they needed most from sales.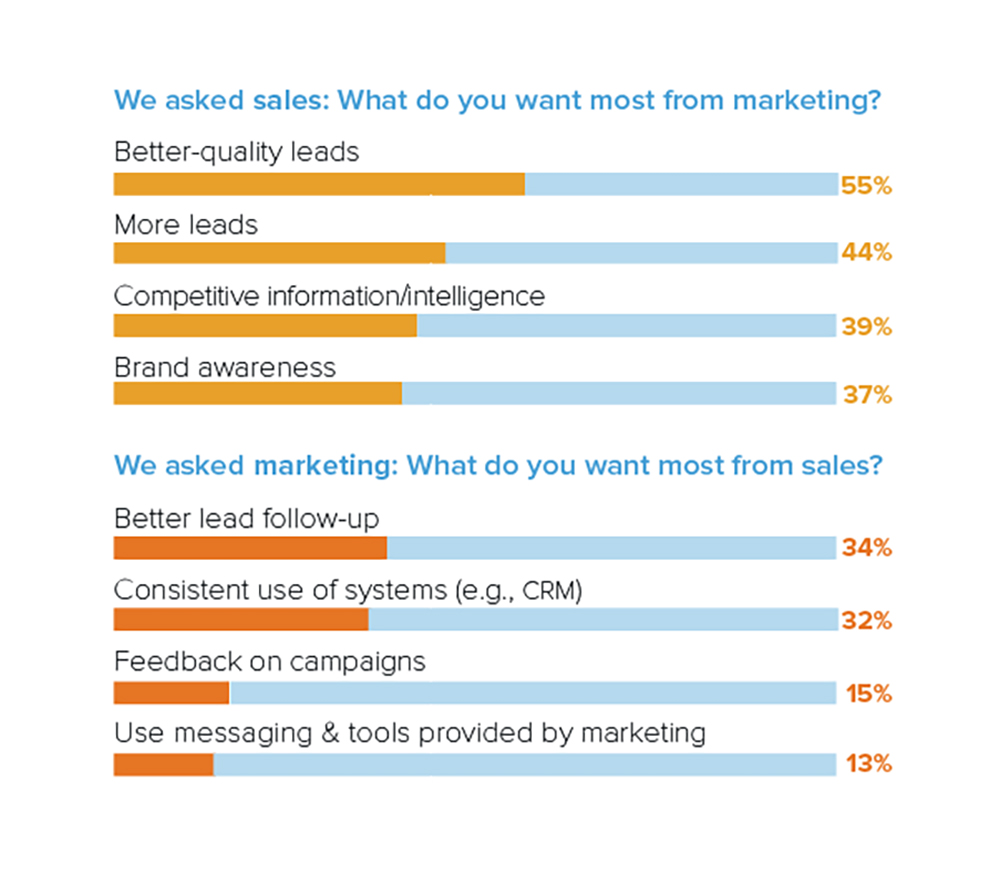 While technology is not a silver bullet to solve all of marketing's problems, both camps need to adopt consistent and integrated use of systems in order to work together effectively. One of the most significant ways ineffective communication inhibits alignment is that it fuels the other major challenges reported by survey respondents. Without strong communication between both teams, broken processes and disconnected metrics become even larger issues.
While the gap between sales and marketing remains a challenge, the study also reveals areas where that disconnect is softening and where trust has strengthened between the two groups. Research shows some leading companies are gaining a competitive edge by addressing misalignment.
Leaders demonstrate strength in four key focus areas that are foundational to alignment: communication skills, common pipeline measurement, adherence to lead quality, and data enrichment to drive successful prospecting.
To remain competitive in reaching growth goals in the future, more organizations are likely to move to a "shared funnel" approach. Therefore, adopting common measurement, consistent communication, and a focus on lead quality, data quality, and buyer insights are likely to become essential strategies for sales and marketing.
Software company Gainsight was able to make great gains once its sales and marketing teams aligned. The company's two teams took a cooperative approach to lead nurturing and funnel management by collaborating on lead scoring, lead routing and lead enrichment. As a result, Gainsight converted leads into opportunities at three times the frequency and double the number of wins from marketing-sourced leads.
"By putting aligned processes in place, we were able to scale our marketing efforts and make a bigger impact on our revenue number," said Lauren Olerich, Director of Demand and Customer Marketing at Gainsight. "Wins from marketing sourced leads alone doubled."
The survey polled a mix of 995 U.S.-based sales and marketing professionals from across industries. It included a close to even split between sales and marketing respondents, who shared everything from why they believe the teams are not aligned to their attitudes abouteach other and what they're doing to improve the relationship and improve the bottom line.
Click here to download the full report.