DiscoverOrg Expands Data Offerings With RainKing Acquisition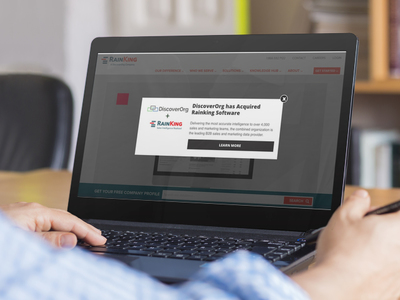 DiscoverOrg, a marketing and sales intelligence solution, announced it has acquired the IT sales intelligence company RainKing for an undisclosed fee.
As of today, new data will be brought into both platforms, increasing the number of companies, contacts and buying triggers that users can access. Over time, DiscoverOrg will combine features from each platform.
According to DiscoverOrg, the benefits customers from both companies will see from the acquisition include:
An increased investment in product innovation designed to accelerate data collection, deepen predictive analytics, enhance account-based marketing capabilities and optimize, and enrich data within their CRM, marketing automation and sales engagement tools.
Combined data sets delivered via an expanded research team, including deeper coverage of European IT contacts and broader coverage of non-IT lines of business, such as sales, marketing and human resources; and
A materially larger team dedicated to customer onboarding, training and long-term sales and marketing success.
"The path to rapid revenue growth is paved with highly accurate, actionable and predictive sales and marketing data, and the combination of RainKing and DiscoverOrg means that our joint customer base has access to an extraordinary portfolio of data, contextual buying insights and predictive intelligence," said Henry Schuck, DiscoverOrg CEO. "We are building a company that is to sales and marketing intelligence what Salesforce is to CRM."