HubSpot Tops GetApp's Rankings Of Marketing Automation Providers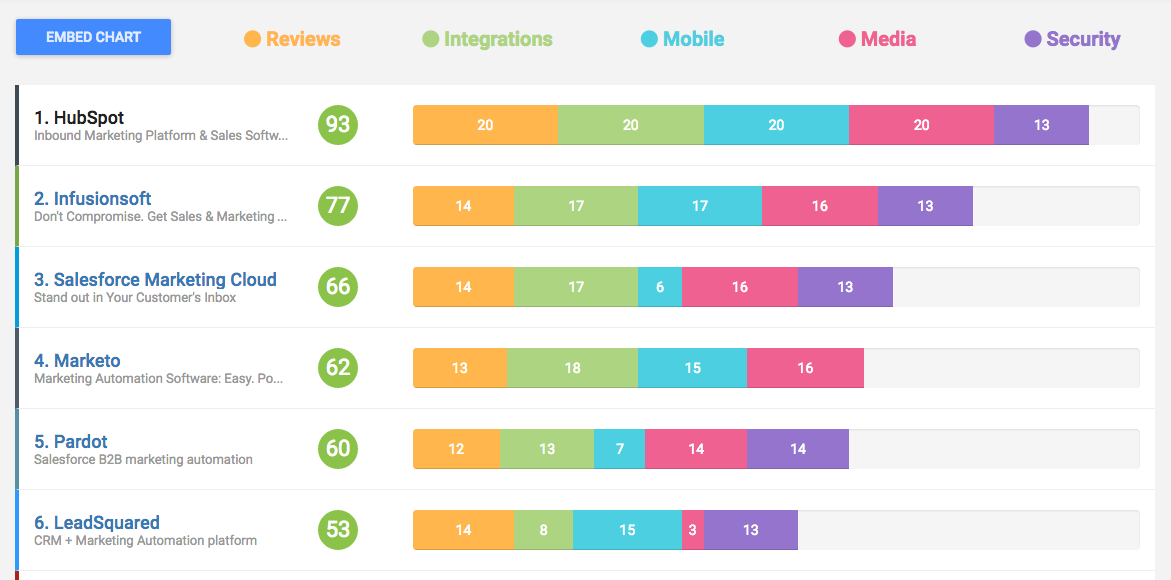 Business software review website GetApp announced its rankings of the top marketing automation solutions for small and mid-size business owners in Q2 2016. The winner is HubSpot, with Infusionsoft and Salesforce Marketing Cloud coming in second and third place, respectively.
GetApp ranked each solution by awarding points in five different categories:
The overall number of social followers on Facebook and Twitter;
Overall security based on a survey developed by GetApp;
The number of integrations available for the solution;
The availability of an iOS or Android mobile app; and
The total number of user reviews for the product found on GetApp's website.
"Hubspot came in first with a high score of 93 and perfect scores of 20 for its reviews, integrations, mobile apps and media presence," said Researcher and Project Manager of the ranking, Suzie Blaszkiewicz, in a release. "Infusionsoft's popular Android and iOS apps helped it achieve a score of 17 in mobile app availability to come in second place, while Salesforce Marketing Cloud and Marketo came in third and fourth place, respectively, with strong showings for their high number of integrations."