Oracle Unveils New Chatbot, Adaptive AI Capabilities At Modern Marketing Event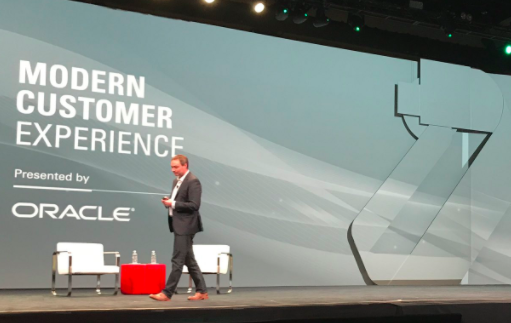 Image: @OracleMktgCloud on Twitter
Oracle announced a variety of new features and tools within its Customer Experience Cloud Suite, including new chatbot and adaptive artificial intelligence (AI) capabilities.
Unveiled at Oracle's Modern Marketing Experience in Las Vegas, the company said the new chatbot capabilities will enable users to promote engagement by asking—and intelligently answering—customer questions on both text and voice-driven platforms such as Facebook Messenger and Amazon Alexa.
The new AI features, called Adaptive Intelligent Apps, are designed to react, learn and adapt in real-time based on historical and dynamic customer data, such as clickstream and social activity.
"These solutions will work on the orchestration system, enabling users to tie these channels and communications into the orchestration to further personalize engagement," said Steve Krause, GVP of Product Management at Oracle Marketing Cloud, in an interview with Demand Gen Report. "The point here is to bring these two independent things together."
Oracle also unveiled other updates to its cloud offerings, including:
The launch of Oracle Content and Experience Cloud, a new platform designed to help companies manage and deliver content to multiple digital channels to drive engagement with customers, partners and employees;
A new integration between Oracle Marketing Cloud and LinkedIn Campaign Manager, which positions users to convert unknown prospects into known buyers, retarget buyers with relevant digital ads, enrich buyer profiles and optimize digital ad spend on LinkedIn; and
New video and social messaging capabilities for service professionals, designed to power next-generation customer service strategies by enabling customer service agents to interact with customers across WeChat, Facebook Messenger and video channels.