PROS Unveils New Sales Enablement Solution For SellingPRO Portfolio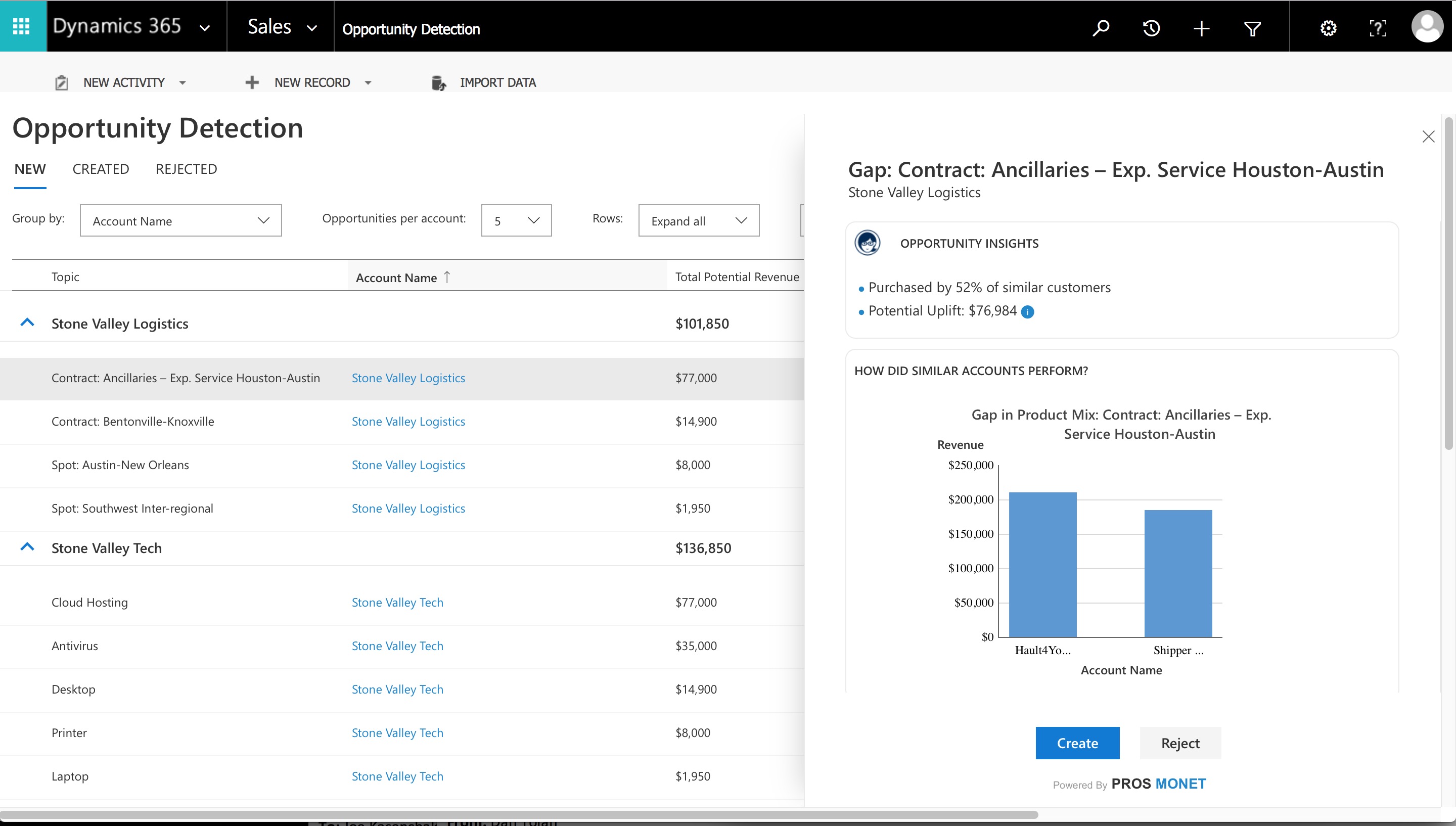 PROS Opportunity Detection is a new SaaS solution in the PROS SellingPRO portfolio that is designed to help companies drive sales growth by uncovering trends in buying behavior. The solution enables companies to uncover new growth opportunities with existing customer opportunities to drive monthly revenue with minimum sales effort required.
FEATURES/FUNCTIONALITY
Key features of the solution include:
- Data science and machine learning, which can help analyze transaction activity and identify new opportunities by uncovering buying behavior trends. With outlier detection, churn forecasting and clustering algorithms, the solution finds inconsistent and declining purchasing patterns to identify new sales opportunities based on cross-sell gaps at the product level for each customer.
- Monet, an AI-enabled analyst, designed to provide sales teams with guidance that enables them to work faster and smarter to identify hidden opportunities in their accounts. Additionally, the AI is designed to alert sales teams to potential customer churn to circumvent possible account losses.
- Easy-To-Use Interface, which presents actionable sales opportunity recommendations to each rep with an interface in their familiar CRM environment, including Microsoft Dynamics and Salesforce.
TARGETED USERS:
Opportunity Detection fits best in verticals with high product mixes and many SKUs, or for sales teams that manage many accounts. It is useful for distributors and manufacturers, and can be deployed to partners and multi-channel sales teams.
COMPATIBILITY:
PROS Opportunity Detection is currently compatible with Microsoft Dynamics 365, Salesforce and with companies that have their own proprietary CRM systems.
DELIVERY/PRICING MODELS:
The SaaS-based application is hosted on the Microsoft Azure cloud. Opportunity Detection is priced on a per-user, per-month based model.
CURRENT CLIENTS/USERS:
Current users of the solution include organizations such as Global Distributors, Industrial Equipment Manufacturers and Drug wholesalers.
COMPETITIVE POSITIONING:
Opportunity Detection efficiently identifies new sales opportunities so sales teams are better positioned to provide top-notch customer experiences and remain competitive in today's marketplace. Data science and machine learning identify new leads so sales teams know precisely where to focus their time.
CONTACT INFO:
PROS
3100 Main Street, Suite #900
Houston, TX 77002, USA
info@pros.com
1-800-555-3548.