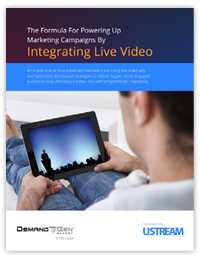 Video content is making waves in the B2B buying process. Studies show that more than half of B2B buyers view video content when researching a buying decision. This white paper dives into how live video ads can make a powerful impact on digital marketing initiatives, including:
Why B2B buyers prefer engaging video content over its written counterparts;
Best practices for programmatic distribution strategies to help video ads reach your target audience; and
Real-life examples of how live video ads deliver better ROI with a larger, more engaged audience.
Download this white paper today, and see how live video can enhance your marketing campaigns and produce results!
---