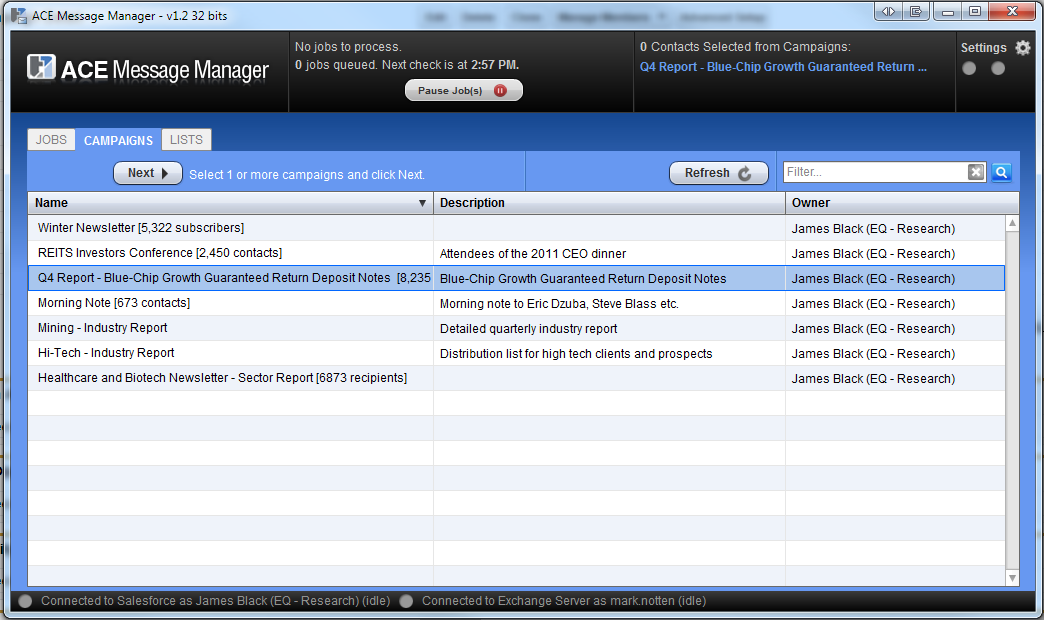 Tier1CRM's ACE Message Manager allows marketers to send unlimited mass emails by leveraging their own Exchange Server with lists and templates from Salesforce.com.
Targeted Users
Marketers in regulated industries, including financial services, government and health care, using Salesforce.com.
Compatibility
Salesforce.com
Delivery/Pricing Model
Contact company
Competitive Positioning
ACE Message Manager is unique in how easy it is to deploy and use and is ideal for regulated industries where compliance and logging are important, such as health care, financial services and government.


ACE Message Manager allows marketers to use all the power of Salesforce to create lists and email templates and their own infrastructure to send them. Unique features and benefits include:
Emails are routed through Exchange server for standard disclaimers and compliance;
Marketers can send unlimited emails regardless of your company's daily Salesforce email limit; and
Use Salesforce campaigns and email templates personalized for each recipient (e.g. Contact.Firstname).
ACE Message Manager simplifies and accelerates the process of client communications via email and is of particular benefit to Salesforce users who want to leverage their existing email servers such as Exchange to deliver an unlimited number of messages to their clients.
Contact Info
Web site: www.tier1crm.com
Phone:
(416) 932-4774 (Toronto)
(201) 850-9330 (U.S.)
Email: This email address is being protected from spambots. You need JavaScript enabled to view it.