Creating Personas For B2B Marketing: A Step-By-Step Guide To Targeting Quality Leads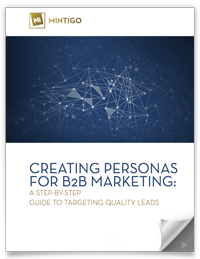 Organizations who have optimized their content around specific buyer interests are seeing open rates increase by more than 10% and click rates have often doubled. Yet, many B2B marketers still haven't successfully created buyer persona strategies.
This white paper provides an easy-to-follow guide to defining personas by interest. Broken down in four simple steps, the white paper provides examples into:
Mapping to potential interests
Prioritizing around impact
Identifying predictors, and
Scoring leads against interests

Simply complete the form to access the white paper and learn how you can start improving your conversion rates and lead quality by creating personas around buyer interests.
---