Retargeting Attracts Growing Interest Among B2B Marketers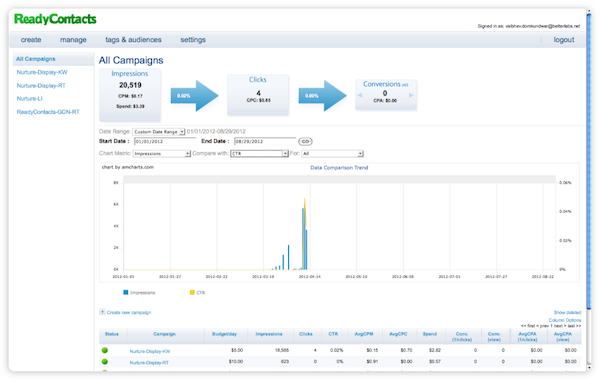 Search retargeting – a tactic which employs a simple but profitable intersection of display advertising and search – has long been a popular marketing tool for consumer companies. Now, retargeting is also gaining traction in the B2B market.
While consumer-focused retargeting is relatively simple, however, for B2B firms it will be a more complex process.
"As a B2B company you want to be able to get to the customers that raised their hands," said Chris Mann, VP of Project Management for Bizo. "For B2B marketers there will be a creative set of solutions to accomplish that."
Mann is referring to the solutions required to overcome the reach and scale issues that until very recently made B2B search retargeting a lower priority.
For B2C marketers, search retargeting makes sense from a data and ROI point of view. If a potential customer enters a keyword or visits a web site, for example, search algorithms capture that data. Based on this formula, consumers that shop online for cowboy boots, for example, will be deluged by display ads for that product whether or not they have already made a purchase.
B2B search retargeting operates on a different scale. Consumer retargeting may aim at thousands of customers with the goal of converting just 10% of them. For B2B companies, however, the numbers of customers worth retargeting may only be in the hundreds. But the potential ROI for converting just one of these customers can be huge, and the process can feed a B2B organization's existing lead management system.
Bizo has been the most aggressive company in terms of promoting B2B retargeting. It will launch a site retargeting product, among other products, before mid-September. Site retargeting is somewhat different than search retargeting: Instead of limiting the retargeting effort to search terms, it can tag potential leads that visited a web site but have not returned.
Site retargeting allows B2B companies to vastly increase the number of customers they can retarget. Bizo has introduced a self-service retargeting tool that enables a company to re-engage with web site visitors after they've left that company's web site.
Bizo's recently-released Self-Service Edition includes web site audience reporting and analytics. It offers visibility into the business demographic make-up of web site audiences, such as company size, industry, job function and seniority, and it reports on which audiences are converting. Bizo claims that its offering is the first self-service retargeting platform specifically designed for business-audience marketers.
ReadyContacts is also launching a B2B retargeting product this week. The company's solution, based on Salesforce.com's AppExchange, addresses the scale issue by including AppExchange members and internal sales contacts for retargeting efforts. For example, leads that previously downloaded a white paper can be included in a marketing organization's retargeting efforts.
"It is in its early stages," said Vaibhav Domkundwar, Founder and CEO of ReadyContacts. "Some companies are experimenting with it, but what we're saying is that you can essentially apply lead nurturing to your anonymous visitors. Leads have so many entry points now. It will be essential for B2B marketers to be able to track them and recapture their lead potential."
Silverpop has also been on the case for retargeting for some time, using a more integrated approach. Company CEO Dave Walters said that he's concerned more with reach than scale for B2B retargeting. Because of that, he recommends partnering with a search engine to drive traffic and make your brand appear to be bigger than it is. He also recommends more specific fundamental changes for retargeting; rather than creating more specific display ads that take the user to a generic web page or form, a marketer could instead tie the ad and landing page to the specific offer the retargeted customer or prospect had previously abandoned.
"Retargeting needs to be integrated," Walters said. "I see it as manifesting itself in B2B very quickly. When you're looking for a small amount of super high-quality leads it is a very effective tool."