Rich Media
Wednesday, 07 August 2013 14:17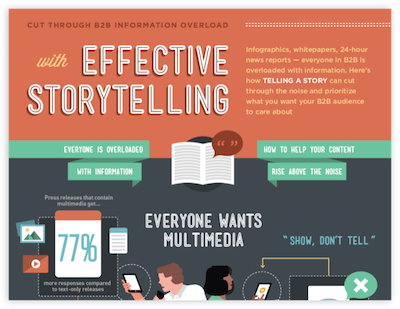 B2B buyers are bombarded with content , so marketers have to figure out how to cut through the information overload and help buyers prioritize. This infographic from LookbookHQ and Beutler Ink demonstrates how storytelling can help your content rise above the noise.
Read more...
Marketing Analytics
Written by Jonathan Lee, Associate Editor
Wednesday, 07 August 2013 09:32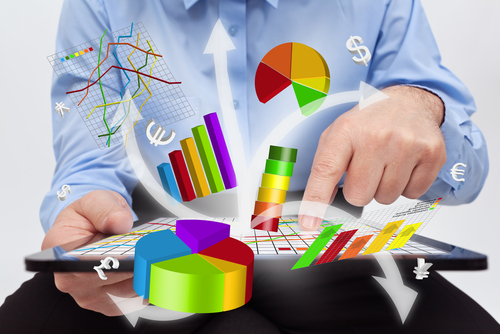 The delineation between marketing and IT is becoming more fluid as data analytics and advanced technologies drive marketing strategies. As the concept of data-driven marketing takes hold and marketing's responsibilities broaden beyond lead generation, the position of marketing technologist has emerged to bridge the gap.
"IT and marketing are blurring when it comes to marketing technology, probably more than any other department," said Jason Stewart, VP of Demand Generation at ANNUITAS. "Technologies like marketing automation, social media monitoring and content strategy tools are requiring more marketing expertise and acumen. The need for marketers specializing in the tech aspects of the role is greater than ever."
Read more...
Data Management
Tuesday, 06 August 2013 09:31

The Teradata Data-Driven Marketing Survey 2013 revealed that while many companies are moving toward data-driven marketing, nearly half of marketers agree that data is the most underutilized asset in their organization. In response, many companies are starting in the marketing department as they look to make operational adjustments to tighten marketing-IT integration.
The survey was conducted by Teradata Applications, a division of Teradata that is focused on business, marketing and analytical applications, and services. More than 2,200 global marketers responded to the survey.
Read more...
Data Management
Monday, 05 August 2013 10:45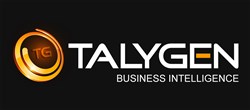 Talygen, a provider of business automation tools, has added a CRM module to its SaaS application, enabling users to access the program from tablets, smartphones or desktops.
Talygen CRM automates various customer relationship management tasks and is fully integrated with other Talygen features, such as contacts, project management, time tracking and invoices.
Read more...
Industry News
Friday, 02 August 2013 09:50

Bulldog Solutions has announced five marketing technology service packages designed to help clients implement and optimize marketing data, technology and reporting infrastructure.
"Creating a solid marketing technology foundation is not just about buying a marketing automation platform (MAP), it's about making sure that there is strong lead management process integration, data quality, systems integration, metrics and reporting, and training and support," said Johnny Anderson, Bulldog's VP of Marketing.
Read more...
<< Start < Prev 101 102 103 104

105

106 107 108 109 110 Next > End >>


Page 105 of 296
Demanding Views
Jeff Winsper, President, Black Ink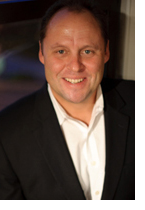 News flash everybody. Inbound marketing is so old school. Some claim even back to the 11th century BC. I was being generous in my headline.
I get a chuckle when B2B marketing practitioners glom onto a fancy new name for some marketing principle that has been around for thousands of years. Then everybody rallies the wagons and wails on the bugles as if there some new magical way to create demand for consumers. Inbound marketing is in effect the same principle as "pull marketing." Of course, we remember the classic "push, pull marketing" from our marketing 101 class. I'll frame up the situation as a refresher to make the point.
Read more...
Bulletin Board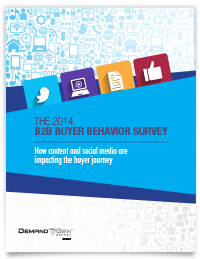 Demand Gen Report's 2014 B2B Buyer Behavior Survey provides insights into how B2B buyers make their decisions. Buyers are waiting longer to engage with sales, but they are more satisfied with the process than in years past. For an in-depth look at this research, download the report now!
Solution Spotlight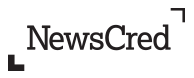 NewsCred's content marketing platform is designed to help marketers throughout the entire content marketing process — from planning, sourcing, publishing and measuring content.
Read more...
Follow Us
Industry Events
When: February 16 - 18, 2015
Where: Scottsdale, AZ
The B2B Content2Conversion Conference brings together the top thought leaders and practitioners in both content and demand generation. The combined agenda provides real-world case study examples, as well as actionable takeaways on how marketers can better target, engage and convert prospects into customers. Taking place in Scottsdale, Arizona, the B2B Content2Conversion Conference provides you with a playbook to optimize your 2015 marketing plans.
Read more...
When: February 23 – 26, 2015
Where: Las Vegas, NV
Discover how-to details and strategies for fast, measurable digital marketing success. All of it is real-world experience grounded in rigorous research and taught by successful marketers who face your same challenges. Learn how to make your email campaigns — and your career — more successful than ever and do it within a world-class venue. It's no wonder leading organizations consider Email Summit a priority investment year after year.
Read more...
When: March 25 - 27, 2015
Where: San Diego, CA
Social Media Marketing World 2015 is the world's largest social media marketing conference. By attending, you'll make connections with 100+ of the world's top social media pros (plus 2500 of your peers) and you'll discover amazing ideas that'll transform your social media marketing strategies.
Read more...