Industry News
Monday, 05 November 2012 08:56

Marketing automation vendor HubSpot announced today that it has closed a new round of financing and shared some of its Q3 2012 financial results.
The company said that it has secured a $35 million mezzanine financing round. Investors in the new round include a "large, unnamed institutional investor," according to a company news release, in addition to Altimeter Capital, Cross Creek Capital and several previous investors. The current round brings HubSpot's total financing to $100 million, according to the company.
Read more...
Industry News
Friday, 02 November 2012 09:37

TrendSpottr, Salesforce.com Unveil Analytics Integration
TrendSpottr, a provider of predictive analytics services, announced a partnership with Salesforce.com.
According to TrendSpottr, its real-time predictive analytics will now be available through the Salesforce Marketing Cloud; customers will access their analytics through either the Radian6 or Salesforce Marketing Cloud Dashboard.
TrendSpottr allows sales and marketing professionals to identify top trending links, hashtags and users from customers' topic profiles. It can also expand shortened links to reveal source domain and domain URLs, and it provides time-segmented analysis of top social media trends.
Read more...
Industry News
Friday, 02 November 2012 08:49

There's no need to build the case for cross-channel marketing because it's already top of mind for a majority of marketers. But cross-channel initiatives still face challenges, including budget constraints, lack of technical expertise and staffing.

A commissioned study, "The Key To Successful Cross-Channel Marketing," conducted by Forrester Consulting on behalf of ExactTarget, highlights how marketers are preparing for cross-channel marketing. The greatest challenges, according to the report, are understanding customer behavior and managing multichannel execution.
Read more...
Social & Mobile
Thursday, 01 November 2012 09:52

SAP on Wednesday made a series of announcements intended to establish the company as a major player in the enterprise social software space – and to step up its game against Salesforce.com
The key announcement was the release of a new platform, SAP Jam, which combines elements of SAP's existing Jam enterprise social network and StreamWork collaboration software.
Read more...
Data Management
Written by John Gaffney
Wednesday, 31 October 2012 10:03

More than ever before, the U.S. job market is in a state of flux. More people are changing jobs with greater frequency; in August, 2011, for example, 3.1 million people changed jobs. By August, 2012, 4.3 million people per month were changing jobs.
For B2B marketers this is more than an interesting employment trend. It's proof that their own databases – full of names, contact information, job titles and other key records – can be increasingly difficult to keep accurate and up to date.
Read more...
<< Start < Prev 101 102 103 104

105

106 107 108 109 110 Next > End >>


Page 105 of 243
Demanding Views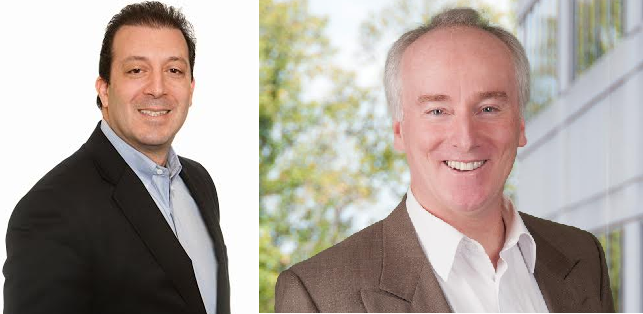 By Jeff Pedowitz and Kevin Joyce, The Pedowitz Group
In the latter part of the 19th century John Wanamaker, the father of modern advertising, is reputed to have said "Half the money I spend on advertising is wasted; the trouble is I don't know which half." Imagine you could demonstrate and manage the impact of marketing on revenue? Imagine you knew which half of your budget was well spent?
For a B2B company with sales cycles of more than six months this may still not be easy. Notice we are not talking about a labor of Sisyphus, pursuing marketing ROI on a single marketing initiative.
Read more...
Bulletin Board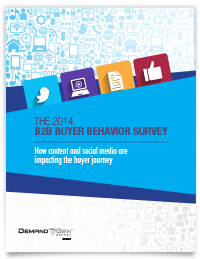 Demand Gen Report's 2014 B2B Buyer Behavior Survey provides insights into how B2B buyers make their decisions. Buyers are waiting longer to engage with sales, but they are more satisfied with the process than in years past. For an in-depth look at this research, download the report now!
Solution Spotlight

The Infusionsoft Small Business Sales and Marketing Scorecard analyzes a business's current sales and marketing processes and provides customized recommendations to improve effectiveness and boost sales.
Read more...
Follow Us
Industry Events
When: April 7 – 9, 2014
Where: San Francisco, CA
Join the Marketing Nation as over 3,500 of your peers, colleagues and thought leaders gather to celebrate Innovation in the Nation. Summit 2014 will provide an engaging experience to grow your expertise and network over two and a half days. Connect with ideas, marketers, and resources to help YOU achieve success faster!
Read more...
When: April 23 – 25, 2014
Where: Phoenix, AZ
#ICON14 is the eighth annual conference for small business, hosted by Infusionsoft. This 3-day event brings together the brightest minds in small business from around the world to learn, network and share best practices for success. The event provides everything from inspiring keynote speakers to hands-on Infusionsoft training, plus tips on lead generation, conversion and customer delight. Breakout sessions cover a range of topics like Infusionsoft product training, marketing strategy, social media, business management, automation, branding, copywriting, affiliate marketing and more.
Read more...
When: May 21 – 23, 2014
Where: Orlando, FL
The SiriusDecisions' annual Summit is a unique three-day conference where SiriusDecisions analysts and top sales and marketing leaders from Fortune 500 companies and major SMBs share how b-to-b organizations are solving critical issues that hinder predictable growth. Each year, the theme focuses on aspects of how sales and marketing can, and should, intersect.
Read more...