You Have To Work From Home … Now What? Productivity Tips From The DGR Team
The COVID-19 pandemic has left a majority of the world quarantined at home. Unfortunately, some people are completely out of work, while others are lucky enough to work from home. Since Demand Gen Report is on an online publication — and our parent company, G3 Communications, is a digital marketing firm — the team and I are all working remotely with business as usual. Fun fact about G3 that you may not know: A large majority of our company works remotely on a regular basis. We have colleagues in California, Alabama and Ohio just to name a few.
So, yeah, working from home is kind of our thing. And in light of the situation most of us are in, I reached out to the entire team to share their remote offices and their best work-from-home tips to stay sane and productive. We hope this inspires your own remote lifestyle — we're all in this together!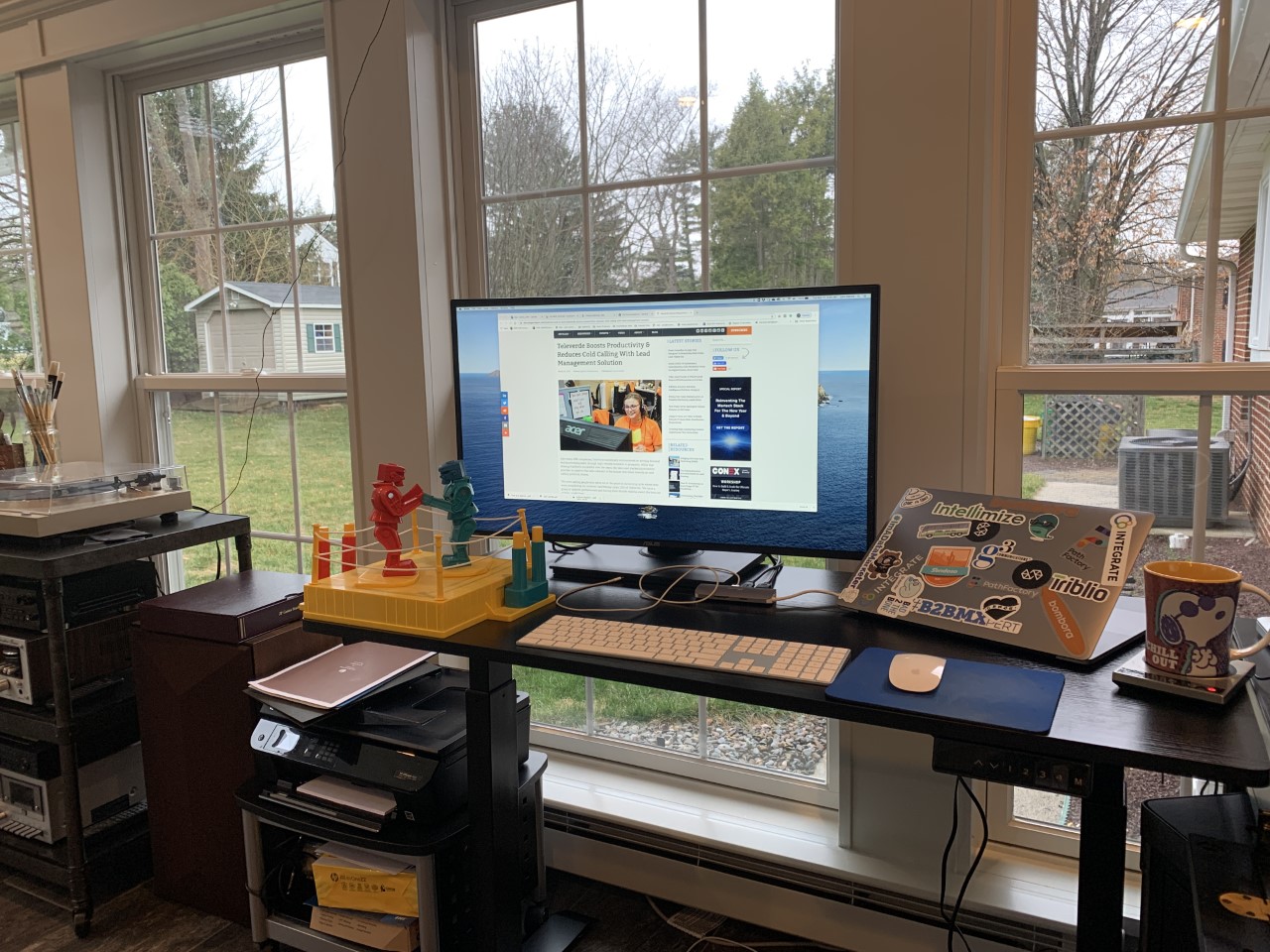 A normal week for me is jam-packed so maintaining a legitimate and active schedule while self-quarantined is crucial to my sanity. I often get up early and get some housework done (laundry, dishes, etc.) and then make my way to my local Orangetheory studio to get a workout in before I rush home to shower and get ready for a full day at the office.
However, these past few days have allowed me to reset in a way and do my regular day-to-day tasks at a snail's pace. I no longer have to rush to get any chores done and make sure I'm ready to get to work on time. Having a routine while stuck at home is something many of my team members swear by when working remotely. Here's a checklist of things they shared:
"I always make my bed, get dressed and play with my son to roll into my day." -Alicia Esposito, Senior Content Strategist

"I echo Alicia's tip. Get dressed. I don't care if no one will see you all day. You will feel productive just by being in regular clothes versus pajamas." -Gina Lipere, Publication Design Director

"Have video (versus audio) meetings with your team." -Mike Santos, VP of Digital Marketing

"If possible, set aside an area specifically for work. There are so many distractions when you don't have a dedicated workspace." -Raquel-Alexa Brizzi, Digital Marketing Coordinator

"Have a running to-do list to help schedule priorities throughout the day." -Veronica Martinez, Sales Coordinator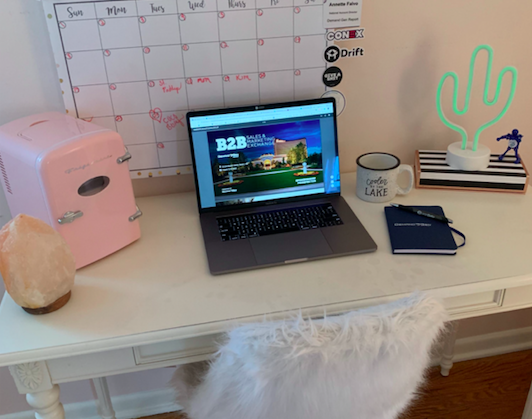 To add to Raquel's tip on your workspace, I like to make sure my space is clear of any distractions. I also enjoy lighting a candle and having a vase of flowers nearby. DGR's National Account Director Annette Falvo, said that creating a workspace you LOVE to be in fosters productivity. Annette even has an awesome mini fridge on her desk stocked with beauty products that she uses throughout the day. How fun is that?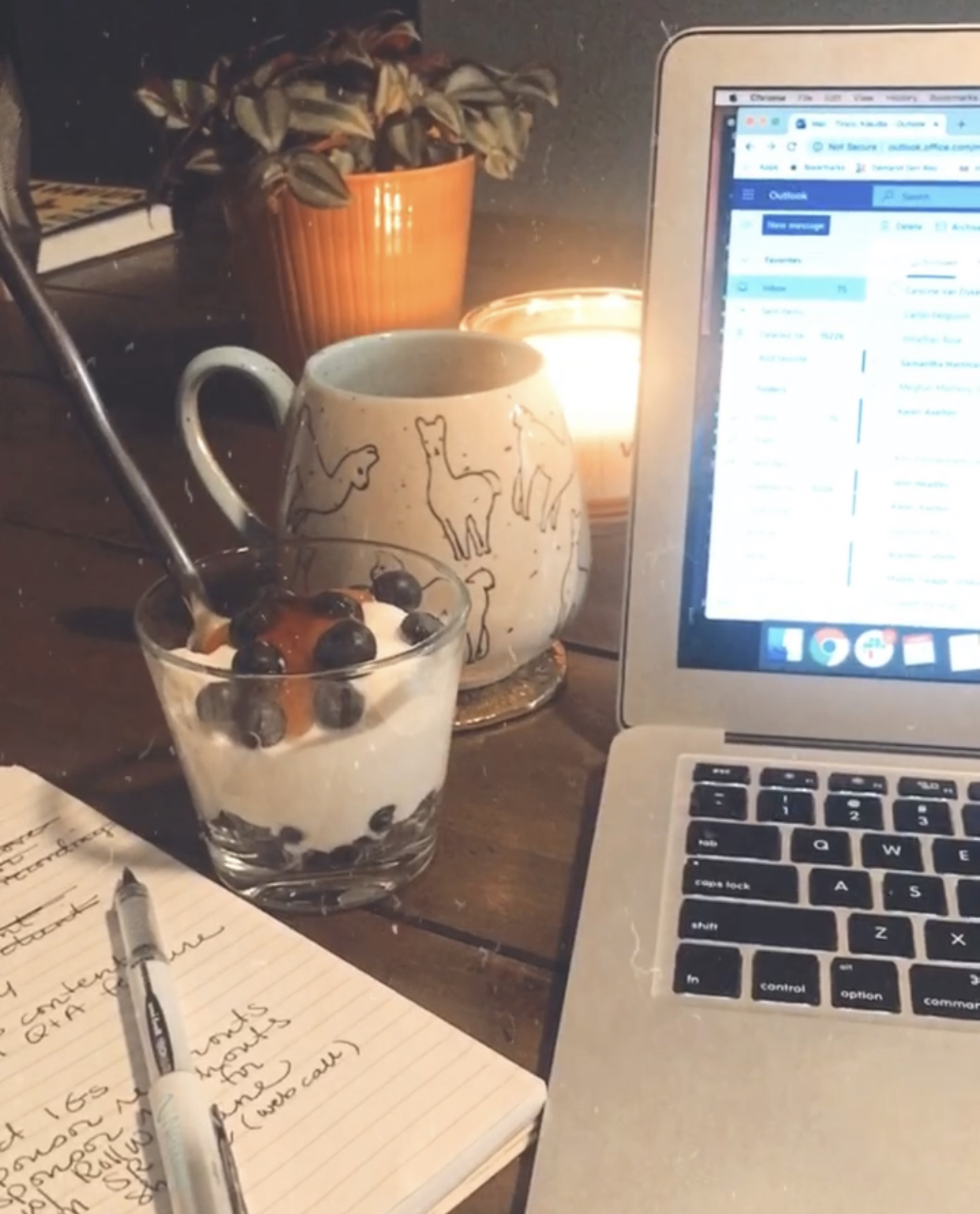 While some people don't mind having the TV on while they work, personally, for me, it's too distracting. But that doesn't mean I sit home in silence. Recently, I've been playing music on my record player and having been jamming out to The Doors, The Beatles, Nirvana and Lady Gaga vinyls. If you're not home alone — as I'm sure you're with your children and significant others — noise-canceling headphones are must, Mike said.
I know it's easy to get sidetracked when you're working from home. So instead of forcing yourself to sit at your designated workspace for a full workday, add in some time in your schedule to get up, stretch, take a break or workout.
"Bake breaks into your schedule," Alicia said. "I tend to maintain productivity when I work for 90 minutes to two hours, and then take a 15-minute break or so to walk away, do a chore or something. Since I can't walk to a colleague's desk or meet elsewhere to chat, this helps me get away from the screen for a bit. Move around however you need to — dance party, squats/bodyweight exercises while watching a show, running stairs, whatever! Movement helps me clear my mind and get a little jolt of energy that I need to get through the rest of the day."
Finally, don't let your work-from-home life take over your entire day. Gina emphasized the importance of stopping work at a reasonable time and hiding your computer away so you don't feel the urge to check one more email. I also like to close out the workday by making a list of to-dos for the next day.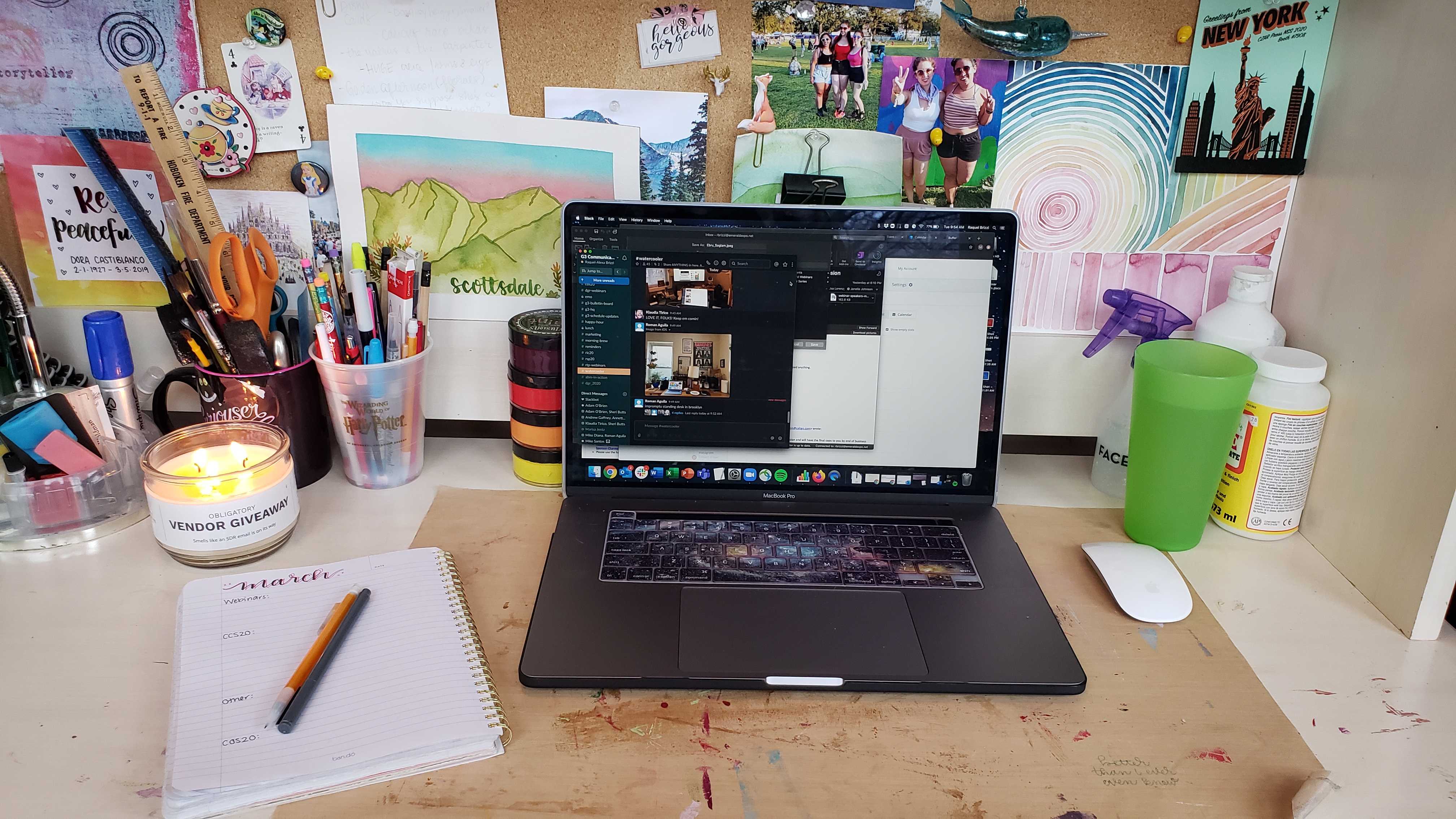 Use the rest of your free time at home to connect with friends via FaceTime, read a book, dive into that cookbook that hasn't been touched since you got it and enjoy this time to reflect on what's important. Hopefully, it'll all be over before we know it and we can go back to our daily routines refreshed and ready to take on the world.
For more work-from-home tips and best practices, check out this blog post from our friends at Content4Demand! Plus, share your personal tips in the comments section below!