Dreamforce 2018: Staying Connected In The Fourth Industrial Revolution, Voice Tech Joins The Workforce, AI Ethics Become Crucial
Featured
As the world moves into the fourth industrial revolution, the key to success is having a connection with your customers. This was a key theme of Salesforce's annual conference Dreamforce, held this year in San Francisco on Sept 25-28, 2018. During his opening keynote, Founder and Co-CEO Marc Benioff emphasized the power of this connection and how technology is changing the way we live both in our personal and professional lives.
"We're moving into the fourth industrial revolution — it's really among us. You can see it," said Benioff. "Everything is starting to get connected. But it's bigger than that. [Companies must] do what they can to connect all their customers and employees and products. Because for us in business, behind all of these things is our customer."
But Benioff stated that, as technology takes over, it is crucial for companies to question their values and ask what is truly important.
"Our culture is built on trust — it's our highest value. What is your highest value?" he asked. "In a world where technology is taking over, and in a world where technology — through the fourth industrial revolution — is grabbing us, realize that we have a higher responsibility to ask that question, especially as artificial intelligence gets released into the whole world. We must ask what is truly important to us."
With technology at the helm of daily activities, Benioff also noted that having an ethical and humane strategy around the use of technology — especially when it comes to artificial intelligence — is something all companies need to think about.
"Technology is not really good or bad; it's what you do with it that matters," said Benioff. "We've restructured our company to have ethical and humane use of technology. Ask yourself: Is what we are doing today ethical and humane? We're all going to have to ask that question in the technology industry, and every company and every CEO better be ready to answer that question."
How Michelin Activates AI Into Its Business
A critical component of tire manufacturer Michelin is its distribution channel — its dealers. As the key account managers are responsible for the success of those dealers, Michelin wanted to help them transform their sales using AI.
Michelin leveraged Einstein Opportunity Scoring to give each sales opportunity a predictive score. With it, Einstein informs the Michelin team about which opportunities are nearly ready or ready to close so they could prioritize accounts, take the right actions, generate greater opportunities and — if they see something wrong — pivot messaging and campaigns to solve problems.
Furthermore, Michelin wanted to help reps identify which dealers were most likely to purchase the newest line of tires. So, they built a custom prediction — "propensity to buy new tires." In beta now, the Einstein Prediction Builder positions users to build a custom prediction with a few clicks.
"At Michelin, we are convinced that the power is combining the human power with the power of AI, and we're very strong on this combination," said Eric Chaniot, Chief Digital Officer & SVP for Michelin North America. "We believe that AI will enable us to serve customers in a personalized way."
Voice Technologies Enter The Workplace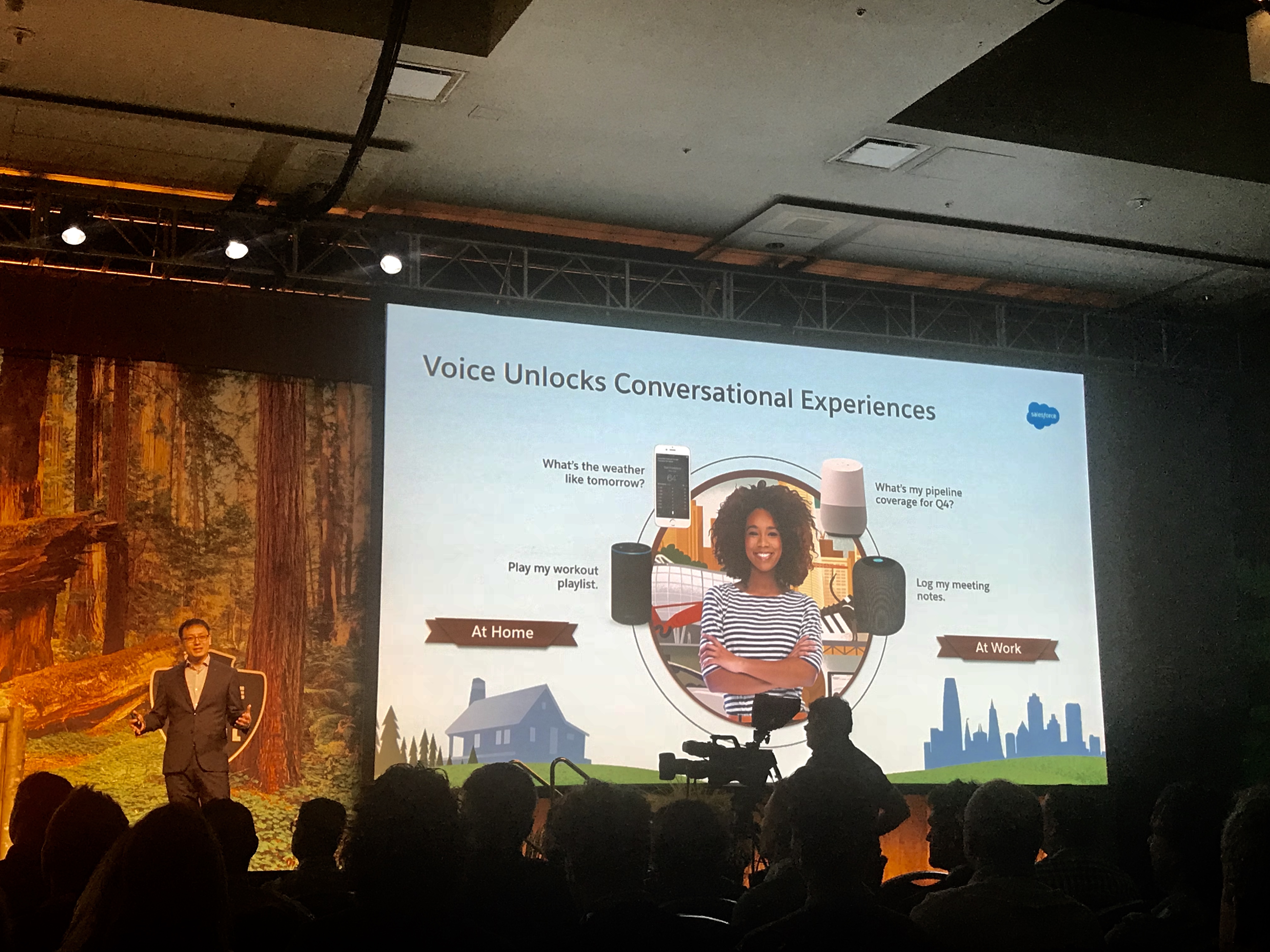 Salesforce put a strong focus on artificial intelligence and voice capabilities at Dreamforce this year, announcing a new component of its Einstein offering that builds on the emergence of voice-enabled technologies. As consumers begin to welcome smart speakers into their homes, they will start to expect these technologies to provide the same convenience and efficiency around business-related tasks.
The first component, Einstein Voice Assistant, is designed to allow Salesforce users to actually speak to their Salesforce CRM instance andremove the friction of repetitive administrative tasks such as data entry, which aims to free up time by dictating updates directly into the Salesforce Mobile App.
During the opening keynote, Salesforce Mobile Architect Qingqing Liu demoed Einstein Voice Assistant for the audience. With the new capability, users are positioned to add meeting notes by speaking into their mobile app. Einstein then uses natural language processing to interpret everything that was said. It is positioned to automatically find the account in Salesforce to add actions, sets deadlines and more. Everything is updated to the CRM in real time, so users don't need to manually plug in key action items.
In addition to "speaking" to Salesforce, the Voice Assistant can also provide daily briefings by sharing key Salesforce metrics and priorities via their preferred smart speaker.
"There are 50 million smart speakers in the U.S. alone and we want to connect Salesforce to that experience, as well," said Dr. Richard Socher, Chief Scientist at Salesforce. "If we can make that experience as simple as the CRM experience, we can drive a lot of productivity."
But adopting voice for business is different compared to our consumer lives, according to Yingbo Zhou, Speech Recognition Scientist at Salesforce, who highlighted three challenges:
It's domain specific — every business has a unique terminology;
Audio environment — in a business setting, the audio environment is dynamic and different from your kitchen or living room; and
Privacy and trust — user data is still sensitive.
To solve these challenges, Salesforce has optimized end-to-end speech recognition models, such as:
Domain-specific language models;
Normalized models that suppress background noise; and
Enterprise-level security.
The Future Of Ethical AI
During another session, the Salesforce research team shared AI predictions, as well as tips on how to incorporate ethical ideas into your AI efforts.
"We'll see a major transformation in how CRM is being used and how users interact with companies," said Socher during the session. "We'll see a future that is conversational, contextual and intuitive."
But as AI and voice technologies in the workplace become more common, it is important to have an ethical mindset. "With the different pieces of AI — the models, the training data, how our customers implement it — we have to think through the societal and ethical implications," said Kathy Baxter, Architect and Ethical AI Practice Lead at Salesforce.
She shared three pieces of advice for companies to incorporate ethical ideas into AI efforts:
"Deeply understand your data. Look and see if it represents your user base or if there are users more heavily represented than others. Are there any protected data categories in your models that offer biases?"
"Understand your users are customers. What is the impact of the recommendations or predictions that your AI is making? Are some users more impacted than others?"
"Ensure you are implementing an agile AI process. What are the resources? Are you looking at how you are implementing, iterating and improving what you are building?"