Research: Storytelling, Execution Top Characteristics Of High-Performing Marketers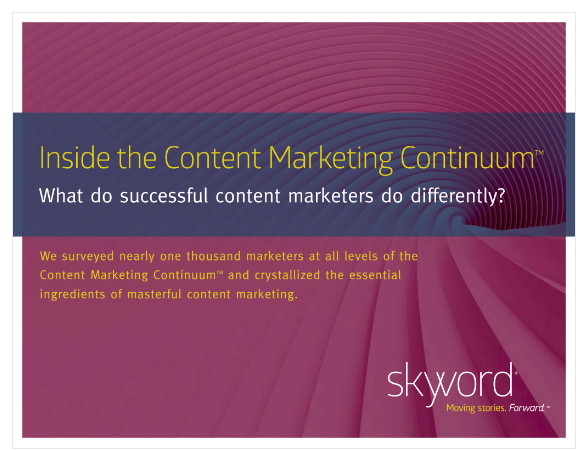 New research from Skyword, a content marketing software and services company, has found that only 27% of marketers report strong adoption of storytelling techniques. However, 83% the highest-performing content marketers (the top 2% of respondents) have adopted storytelling.
"As content becomes more and more central to the marketing organization overall, content marketers are facing new demands in order to attract and engage with audiences and to stand out from their competition," said Tricia Travaline, CMO for Skyword, in a statement. "They know they have to be strategic, creative and disciplined all at once. We wanted to understand what it was that the most advanced content marketers shared so that marketers know how to focus their efforts instead of being overwhelmed by the challenge."
The year-long research found a critical set of characteristics among high-performing content marketers, with storytelling being top of mind. The characteristics include:
1. Storytelling State Of Mind
100% of high-performing marketers report using storytelling techniques in their content creation, while 83% of visionary content marketers said storytelling ethos permeates their organization.
2. Excellence On Execution
Marketers are leveraging storytelling for a variety of content types. Ninety-one percent are creating articles, videos, podcasts, infographics, E-books, sales and products content; 87% are producing movies, conferences or concerts. Additionally, 78% are leveraging display, banner or native advertising.
3. No Organizational Templates
Organizations are adapting strategies to fit their needs. Forty-five percent of top organizations rely on a specific content or creative team, while 32% employ a combination of in-house and freelance editorial creative teams.
4. Agile Measurement
High-Performing marketers tend to focus on strategic measurements, including whether content is driving sales (91%) or whether it's converting goals online (96%).
5. Experiencing Universal Challenges
High-performing marketers struggle with limited budgets and resources, on boarding tales and building experiences – similar to less advanced content marketers.