Study: 73% Of Millennials Are Involved In B2B Decision-Making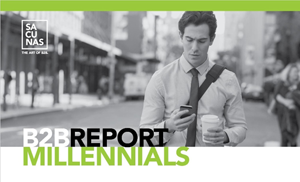 Known as the largest generation in the U.S. labor force, Millennials (defined as between ages 20 to 35) are a valuable demographic in B2B sales and marketing. A recent study from Sacunas, a B2B marketing agency, revealed that 73% of Millennials are involved in some form of B2B decision-making, and one-third are actually the sole decision-maker in their company.
Sacunas surveyed 2,000 Millennials in the U.S. about their buying habits, usage of social channels and causes they care about. The goal was to learn more about what drives the Millennial generation in the B2B space when it comes to the channels they use to make purchase decisions.
The survey also revealed that younger Millennials rely strongly on digital channels for research. In fact, 85% use social channels to research products and services for their company, with Facebook as the preferred choice (44% of women; 37% of men).
Other key finding of the survey include:
82% consider mobile devices important in the research process;
29% of Millennial buyers see video as the most important research tool; and
39% consider training and demos as valuable company offerings.
"To successfully market to Millennials, B2B companies need to understand the unique behaviors and psychology of the Millennial buyer," said Adam Vasquez, President of Sacunas, in a statement. "B2B brands not only have to optimize their customer experience, but they must also evolve to have meaning beyond the products they represent."