Genius Marketing Automation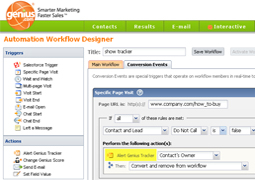 SOLUTION SPOTLIGHT
Genius.com is the only Marketing Automation solution that truly "gets" sales.

Genius Provides on-demand solutions for marketing automation, lead nurturing, email marketing, demand generation,  and social marketing that allow both marketing and sales professionals to identify and connect with their best prospects online in real-time, without requiring IT involvement.
FEATURES/FUNCTIONALITY
With Genius, no matter what the state of any automated workflow, when a prospect "conversion event" occurs, Sales is immediately alerted and given access to the prospect's website visit history so they can follow up with the right prospects at the right time and with the right information. Genius is unique in enabling users to identify qualifying "conversion eve nts", such as trial sign-ups or visits to a specific web page, that signal strong prospect interest.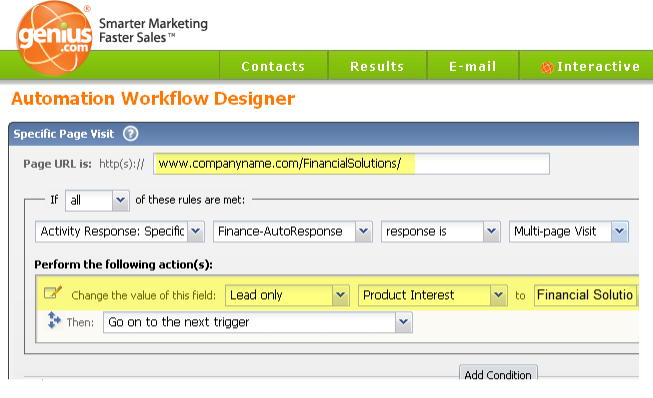 Additionally, Genius allows organizations to utilize social media to attract and engage with their customers and prospects. Genius URLs (gURLs) from Genius are specifically designed to track both structured marketing campaigns and ad-hoc social-media "conversations".
TARGETED USERS:
Marketing and Sales organizations involved in a complex sale (where human interaction is required to close a deal).
COMPATIBLITY:
Genius seamlessly integrates with salesforce.com and is rated the #1 demand generation solution on the salesforce.com AppExchange. Genius provides import and export capabilities for integrating with other CRM and ERP systems.
DELIVERY/PRICING MODELS:
Genius is a SaaS solution, requiring no IT implementation or website tagging. Pricing is based on features, number of contacts, and seats. List pricing for Genius Pro Email Marketing starts at $1000/month. Genius Enterprise Marketing Automation starts at $1750/month.
CURRENT CLIENTS/USERS:
With over 500 customers and 55,000 users, Genius has contributed to the success of numerous companies, including: Intuit, BT, Cisco/Webex, newScale and Aruba Networks.
COMPETITIVE POSITIONING:
Only Genius offers robust marketing automation with drag-and-drop workflow creation that alerts Sales the instant a prospect takes a qualifying action. Through gURLs, Genius also allows users to manage multi-channel campains and inbound marketing activity —all without requiring any website tagging or IT involvement.
CONTACT INFO:
Contact Merlin Kupitz
mkupitz@genius.com
888-6-GENIUS
www.genius.com
Demo: http://www.genius.com/media/productDemo/demoMenu.php