InsideView Launches Data Append Solution On Salesforce AppExchange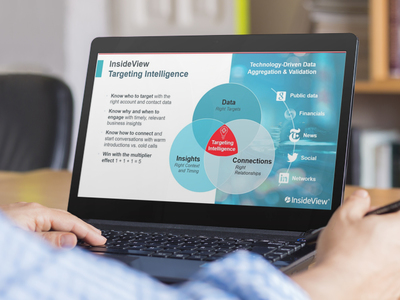 InsideView Append is designed to attach comprehensive, continuously refreshed company data to Salesforce accounts. This can help customers better target and engage prospective customers with deeper insight into company data.
FEATURES/FUNCTIONALITY
InsideView Append intends to help solve data quality problems by attaching current, complete company data to Salesforce accounts.
Features include:
Firmographics such as industry classifications, revenue and employee counts, corporate hierarchy, location, website, corporate phone and more;
The ability to automatically clean and enrich stale, incomplete account records; and
A Self-Assessment tool to visualize how accounts are distributed across industry, location, size, etc.
The Prospecting add-on, coming soon, is designed to enable sales and marketing teams to build and import lists of net-new prospects from InsideView's continuously refreshed and validated database of more than 13 million companies worldwide.
TARGETED USERS
InsideView Append will appeal to sales operations leaders at B2B companies using Salesforce, who are looking for a data cleansing and enrichment solution.
COMPATIBILITY
Natively integrated into Salesforce, InsideView Append attaches company data to accounts, which can be used to enrich and refresh old, incomplete records. Customers can choose not to overwrite their records based on admin settings.
DELIVERY/PRICING MODELS
InsideView Append is priced per CRM seat.
COMPETITIVE POSITIONING
InsideView offers superior data aggregation and validation that leverages artificial intelligence and machine learning to scale at the speed of data.
InsideView is a pioneer in the Salesforce ecosystem, now with integrated solutions for marketing, sales and data hygiene.
CONTACT INFO
InsideView
415.728.9340
salesteam@insideview.com
See demo video and install on the Salesforce AppExchange.