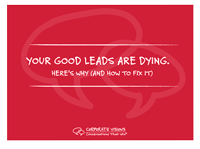 In a recent survey, 39% of B2B marketing and sales professionals said they believe a lack of alignment results in fewer converted leads and closed deals. Yet, only 10% said they have complete coordination between demand gen and sales enablement. But getting aligned isn't always easy.
This e-book will show you how to align your sales and demand gen to reduce the "conversion gap," including:
Visually dynamic tools to help leads cross the conversion gap;
The power of the "why change" conversation; and
How to join the 68% of companies that have coordinated sales and demand gen teams.
Fill out the form below to learn how to get your teams aligned and convert more leads!
---