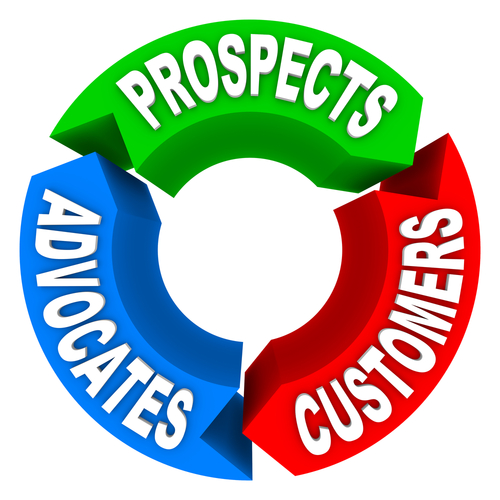 Shoppers consult customer reviews when researching all types of products, from jeans to washing machines. Buying behavior on the B2C side continues to influence how businesses buyers make purchasing decisions, and many B2B marketers are looking for ways to get loyalists to spread the word.
While consumers easily can go to a web site and write a quick review about a new pair of shoes, the process of engaging B2B advocates is more complex. B2B marketers are looking for satisfied customers to perform a number of tasks, including participating in case studies, acting as a reference for potential buyers and posting on social media.
"The challenge is that we know we have all these happy customers based on our surveys, but how do we go about asking them to advocate for us?" said Bo Bandy, Marketing Manager – Brand, Content and Customer Advocacy for ReadyTalk, a web, video and audio conferencing technology vendor.
This past October, ReadyTalk began implementing the Influitive AdvocateHub advocacy marketing platform, and Bandy said they have been pleased with the early results. From mid-October through the end of December, of the 198 advocates in the program, 183 provided referrals; 10 provided LinkedIn recommendations; 35 commented on the vendor's blog; and six participated in case studies. Five of the referrals became sales-qualified opportunities and two resulted in closed opportunities.
"The whole idea is to give our happy customers a mechanism to provide a referral easily, while they are thinking about it," Bandy said. "In addition, the platform makes it easy for sales reps to do the asking."
Bandy said ReadyTalk issues "challenges" to its group of advocates to act as references for prospective customers. In one recent instance, the vendor needed a quick turnaround for a customer reference in a specific industry. She said the request went out on a Friday and they had more than the number of responses needed by Monday.
ReadyTalk plans to expand the program to include more advocates and other opportunities for advocates to get involved, such as product feasibility studies.
Organizing Advocacy Outreach
While B2B marketers have long asked their customers to provide references, there hasn't been a formal process until recently, experts noted.
"Over the past year, the term 'advocacy marketing' has been recognized by marketers and research firms such as Forrester and SiriusDecisions," said Jim Williams, VP of Marketing for Influitive. "According to Forrester, 80% of all B2C and B2B purchases include some form of word-of-mouth recommendation during the purchase cycle. Yet, most B2B referral programs rely on periodic email and calling campaigns."
Williams said that reference program managers are redefining their role. "It used to be that their goal was to connect salespeople with happy customers. Now it is about word-of-mouth marketing and social media. Advocacy has to be part of the customer onboarding process and include the account team and support organization. These are all customer touch points."
While advocates want to be rewarded for their efforts, the rewards do not always need to be monetary. "Most companies have customers who are willing to speak on their behalf, they just haven't been asked," Williams said. "They don't necessarily want a bottle of wine or tickets to a show. They want influence. They want a forum in a customer community or to be at the top of the list of customers who are consulted about a new product or change in a product."
Although experts debate the need to offer advocates rewards to participate, they agree that B2B marketers need to make it easy for their loyalists to get the word out. "One very valuable way to leverage advocates is to make it easy for them to create content about your company, product or services," said Rob Fuggetta, Founder and CEO of Zuberance, an advocacy marketing platform vendor. "By content I mean things like testimonials — customer talking about how a product or service has benefitted your organization."
Measuring Return
One of the most difficult aspects of getting executive buy-in for an advocacy marketing program is that it is sometimes challenging to measure the bottom-line impact.

"B2B marketers are on the precipice of diving into brand advocacy, but a number of B2Bs still don't realize that is something they can leverage," said Theresa Trevor Marketing Director for Amplifinity, a vendor of applications for brand advocacy. "One of the challenges in getting them on board is that B2Bs often make the assumption that lead gen resulting from advocacy management cannot be measured. Actually, our platform measures and tracks every lead, from whom it originated and when/if it closed, and the revenue generated."
However, leads from advocacy marketing are more likely to become customers, Fuggetta noted. "People trust their peers and colleagues and are ten times more likely to make a purchase after receiving positive input from their peers." Advocacy marketing is much more persuasive than other types of marketing. "Research from Forrester found that 87% of B2B buyers are influenced by their colleagues compared to the 15% to 20% who says that traditional advertising channels influenced their decision."
Williams added that the most direct return is through referrals, which is a lower-cost method for acquiring new customers than other types of marketing. "It takes no more effort or resources to run an advocate marketing program than it does a lead generation program or content marketing, and marketers are investing in those efforts."