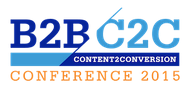 Many of the speakers at this year's B2B Content2Conversion Conference noted that the buyer's journey doesn't always follow the path that marketers intend.
Marketers rely on campaigns to move buyers through the funnel, but Ardath Albee, CEO of Marketing Interactions, stated they can sometimes hinder the journey. "Campaigns are a company construct, not your buyer's agenda," she said. (Coverage of her session here).
Erin Provey, Service Director for SiriusDecisions, outlined the disconnect between content and the buyer's journey during her keynote session.
Buyers are not going to follow a predetermined path, Provey noted: "The buyer's journey is an untangled mess," Provey said. "It's a tool for us as marketers, not our buyers." (Coverage of her session here).
Buyer Centricity
Provey explained that there is a need to move from buyer-centric to buyer-specific content. "If someone asks you to build a content strategy for a generic buyer persona, ask them to be more specific. You need to move past the idea of an asset driven content strategy. Buyer centricity is a philosophy. Buyer-specificity is a best practice."
Michael Brenner, Head of Strategy at NewsCred, focused his keynote session at the B2B Content2Conversion Conference on creating highly personalized content that resonates with the target audience. "Behind every share, and behind every impression, is a human being. It's important to build your marketing campaigns targeted towards those humans. It's not about engaging more people, it's about engaging the right people." (Coverage of his session here.)
Reaching Influencers
Nearly all (90%) of B2B companies are using content marketing, and 82% of senior executives say content is driving their buying decisions. Demand is high, not for more content, but for more meaningful content. Lee Odden, CEO of TopRank Online Marketing, told attendees that relevant content is obtainable through partnering with influential people in the industry.
"Buyers are overwhelmed by the amount of content out there, and content marketers are looking for new ways to create this meaningful content in a way that is valuable to their prospects," Odden added. "Influencers can help bring value to your content that resonates with your target audience." (See coverage here).
Identifying Content Gaps
Carlos Hidalgo, CEO of ANNUITAS, discussed how marketers are addressing the challenges of change management during his session.
Hidalgo also identified a mid-funnel content gap. "We have a major gap because we treat nurturing as a separate initiative," said Hidalgo during his session. "Aligning the nurturing process with every other aspect of the demand funnel can help close that gap." (Coverage of his session here).
Many attendees said they left the sessions with takeaways that they plan to implement in the weeks and months ahead.
"This helps me significantly in meeting with executives," noted Rikki Green, Marketing Manager and Demand Generation Manager for Levementum, a provider of CRM services.