Leadspace-Marketo Integration Automates Lead Qualification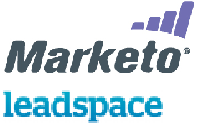 Leadspace launched a new release of its SaaS-based social lead targeting solution that integrates with Marketo to automate the lead qualification process.
Leadspace is designed to help marketers quickly identify targeted leads across numerous data sources, including paid contact databases, social networks and web sites.
The enhanced data can then be fed in the Marketo lead database to support email campaigns to targeted audiences, such as those who expressed interest in a certain topic or use a specific software platform.
"By uncovering lead information scattered throughout the social web, Leadspace enriches the leads inside Marketo," said Robin Bordoli, VP, Partner Ecosystem and General Manager, Social at Marketo. "The new integration helps Marketo users spend their scarcest resource — time — on their most important leads."
Automating the process of lead qualification is critical to prioritizing prospects for the sales team, said Amnon Misher, CEO of Leadspace, in an interview with Demand Gen Report. "Marketers are facing challenges when it comes to social targeting and lead qualification," he said, adding that current lead qualification processes can be slow and labor intensive.
The new Leadspace release also includes other enhancements, including a revamped user interface for generating targeted lead lists, a tighter integration with Salesforce.com for sales prospecting.