Industry News
Monday, 22 September 2014 08:00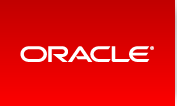 Larry Ellison has stepped aside as Oracle CEO, ending his 37-year reign as head of the company. He will be replaced in that role by co-presidents Safra Catz and Mark Hurd. Both will take the title of CEO and Ellison will stay on as Executive Chairman and Chief Technology Officer.
All manufacturing, finance, and legal functions will continue to report to Catz, one of Silicon Valley's highest ranking female executives. Catz was thought to be Ellison's heir apparent until Hurd joined the firm in 2010 after resigning as CEO of Hewlett-Packard, following allegations of an inappropriate relationship with a female contractor.
Read more...
Revenue Strategies
Written by Kim Ann Zimmermann, Managing Editor
Friday, 19 September 2014 09:34

In addition to launching a CRM at its INBOUND 2014 event, HubSpot added a number of new features to its marketing platform, including enhanced attribution and revenue reporting, campaign wizard and a content calendar. These upgrades come as the company prepares to launch its IPO.
"Our ultimate goal since we started HubSpot has been to help companies and agencies worldwide grow their business with inbound marketing," Dharmesh Shah, HubSpot's Co-founder and Chief Technology Officer, told attendees at INBOUND 2014. "The product launches represent massive leaps in what's possible for marketers with HubSpot's platform, and include features that will help marketers worldwide fundamentally transform the buying experience e for their prospects, customers, and leads."
Read more...
Industry News
Thursday, 18 September 2014 10:08

SoMedia Networks, a video production solutions provider, announced its integration with Oracle Marketing AppCloud. The integration is designed to provide users with on-demand video production capabilities along with video analytics.
Scalable Video for Oracle Eloqua is positioned as a service to enable users to order custom video content and receive it on an estimated 14-day turnaround. The video content can then be embedded into Oracle Eloqua landing pages and email campaigns. In addition, marketers can use the video analytics feature to enhance lead scoring, nurturing and ROI measurement.
Read more...
Rich Media
Wednesday, 17 September 2014 00:00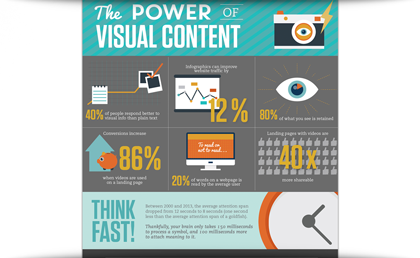 Visuals are faster and easier for the brain to process, and can help drive better business results and more eyeballs to your page. This infographic from OneSpot highlights a number of statistics demonstrating the power of visual content.
Read more...
Content Strategies
Written by Brian Anderson, Associate Editor
Wednesday, 17 September 2014 08:28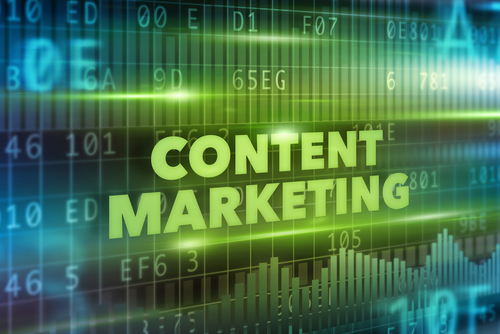 While the role of content continues to mature, many marketers are just beginning to discover its true value — primarily in the data they can obtain through prospects' interactions with content and its ability to enhance engagement through multiple channels.
At Marketo's Marketers First virtual event, roughly 20,000 marketing professionals attended sessions throughout the day, highlighting best practices for content marketing, data analytics and social media. A recurring theme was that content needs to build trust and should not be used primarily as a sales tool.
Read more...
<< Start < Prev 1 2

3

4 5 6 7 8 9 10 Next > End >>


Page 3 of 276
Demanding Views
By Israel Martinez, Product Manager, DNN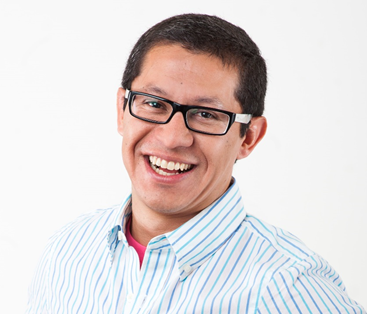 You want a shorter sales cycle and your customers want a shorter buying cycle. No one benefits from prolonging the process. But if your goals are aligned, why is it that things seem to be going in the opposite direction?
According to the International Data Corporation (IDC), 56% of the buying process is spent searching for educational content. IDG reported that 86% of B2B buyers say that the content created by marketing departments is not useful, relevant or aligned with their needs. A study from Forrester says that 76% of buyers choose vendors that can have intelligent conversations and deliver effective value messages, and Sirius Decisions reported that the number one sales inhibitor is an organization's inability to communicate the value of their products.
Read more...
Bulletin Board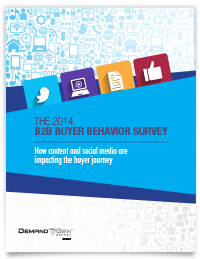 Demand Gen Report's 2014 B2B Buyer Behavior Survey provides insights into how B2B buyers make their decisions. Buyers are waiting longer to engage with sales, but they are more satisfied with the process than in years past. For an in-depth look at this research, download the report now!
Solution Spotlight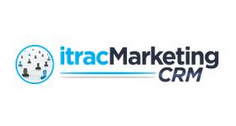 ItracMarketing CRM (formerly itracEMS) provides marketing automation, email marketing, social marketing, lead scoring and lead management from a single platform.
Read more...
Follow Us
Industry Events
When: October 8 – 10, 2014
Where: Boston, MA
Are you armed and ready to meet the marketing challenges of today, tomorrow, and beyond? With technology and the way we live changing rapidly, B2B marketers have so many options and tools that it can be overwhelming. At the 2014 B2B Marketing Forum we will have inspirational speakers presenting on the hottest, smartest topics—giving you the knowledge you need to thrive in 2014, 2015 and beyond. Get ready to bullet-proof your marketing for the future and come out a modern marketing rock star!
Read more...
When: October 13 – 16, 2014
Where: San Francisco, CA
Whether you're a company of five or a Fortune 500, you're going to learn a lot of innovative ways to improve your business at Dreamforce. With over 1,400 sessions and thousands of live solutions from the world's largest cloud ecosystem, Dreamforce has tailored content specific to your business size and type, for any role in your company.
Read more...