Industry News
Written by Brian Anderson, Associate Editor
Thursday, 10 April 2014 12:20

After several weeks of reports that a deal was in the works, IBM Corp. announced that it has reached a definitive agreement to acquire Silverpop. The terms of the acquisition, which is expected to close in Q2, have not been disclosed, but multiple sources peg the deal at roughly $270 million.
With the real-time personalization and marketing automation technology of Silverpop, the acquisition is expected to help IBM offer a more complete customer engagement solution that incorporates personalization capabilities. However, industry observers noted that it remains to be seen how some of Silverpop's more advanced features, including its Universal Behaviors data-integration and behavioral marketing platform, will be integrated.
Read more...
Industry News
Wednesday, 09 April 2014 14:53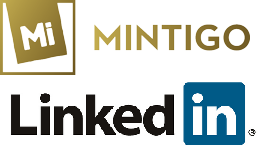 Mintigo, a customer data platform provider, announced that it has integrated with LinkedIn Ads. The integration allows B2B marketers to leverage LinkedIn in order to target specific individuals at high-valued prospective companies.
Mintigo gathers data from the web, marketing automation platforms and CRMs — like Marketo, Eloqua and Salesforce — which allows users to create a detailed customer profile to score prospects.
Read more...
Rich Media
Wednesday, 09 April 2014 00:00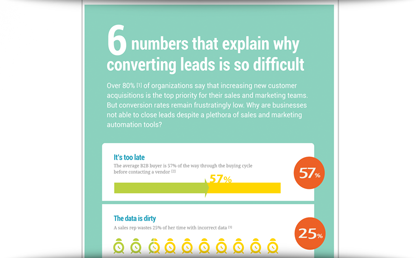 The overwhelming majority organizations say that increasing new customer acquisitions is the top priority for their sales and marketing teams, but conversion rates remain frustratingly low. This infograhic from Compile, a lead sourcing service, offers six reasons why your leads aren't converting.
Read more...
Revenue Strategies
Written by Kim Ann Zimmermann, Managing Editor
Tuesday, 08 April 2014 10:42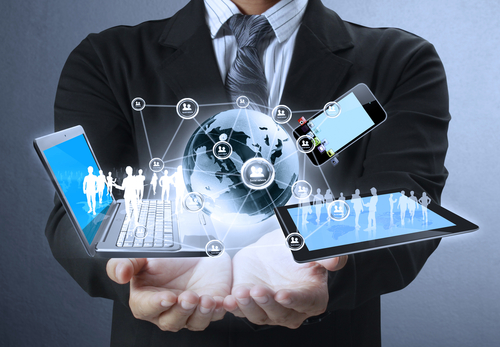 Social selling is the new way to work for many sales people. As they tap into social networks to interact with potential and current clients and extend their personal brand, B2B marketers are beginning to navigate this new selling approach and determine the best strategy to support the efforts.
"Is is really an opportunity for marketing to empower and enable the sales force to leverage content as their currency," said Jill Rowley. Rowley recently started her own social selling consultancy, #SocialSelling, after heading up Oracle's social selling initiative. "What social selling is doing is creating an army of mini marketers where everyone in the company is sharing and creating content."
Read more...
Industry News
Tuesday, 08 April 2014 09:46

Bizo, a business audience marketing solutions provider, has expanded its Multi-Channel Nurturing solution to integrate with any marketing automation platform. The solution, which enables B2B marketers to nurture audiences through targeted display and social advertising, was introduced in October 2013 specifically for mutual Bizo and Oracle Eloqua users.
Multi-Channel Nurturing allows users to engage anonymous and known visitors with relevant ads across participating web sites, ad exchanges and Facebook. Users can also create multiple nurture paths that sequence targeted ad creative and content based on the business demographic profile and onsite behavior of web visitors.
Read more...
<< Start < Prev 1 2 3 4

5

6 7 8 9 10 Next > End >>


Page 5 of 244
Demanding Views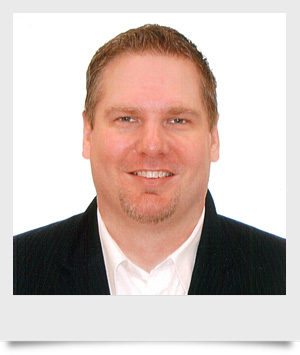 By Loren Padelford, EVP of Sales, Skura Corporation
Companies are now required to hone their sales and marketing efforts to the individual needs and interests of each prospect in order to provide positive customer experiences amid the cacophony of today's marketing-soaked landscape. After all, 81% of companies with strong customer experience competencies outperform their competition, according to Peppers & Rogers Group.
Getting the right content to the right people remains a challenge for B2B marketers, and yet, there are a number of best practices that can be applied to sales efforts and marketing content creation that, even if a prospect hasn't told you what their exact needs are, can improve your chances of delivering a responsive, and timely sales pitch that aligns with your prospect's needs.
Read more...
Bulletin Board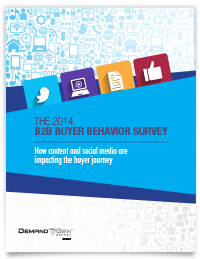 Demand Gen Report's 2014 B2B Buyer Behavior Survey provides insights into how B2B buyers make their decisions. Buyers are waiting longer to engage with sales, but they are more satisfied with the process than in years past. For an in-depth look at this research, download the report now!
Solution Spotlight

The KnowledgeTree content marketing app for Salesforce matches relevant content to leads and opportunities. The tool is designed to identify the most germane, current and effective content for each sales interaction with prospects.
Read more...
Follow Us
Industry Events
When: April 7 – 9, 2014
Where: San Francisco, CA
Join the Marketing Nation as over 3,500 of your peers, colleagues and thought leaders gather to celebrate Innovation in the Nation. Summit 2014 will provide an engaging experience to grow your expertise and network over two and a half days. Connect with ideas, marketers, and resources to help YOU achieve success faster!
Read more...
When: April 23 – 25, 2014
Where: Phoenix, AZ
#ICON14 is the eighth annual conference for small business, hosted by Infusionsoft. This 3-day event brings together the brightest minds in small business from around the world to learn, network and share best practices for success. The event provides everything from inspiring keynote speakers to hands-on Infusionsoft training, plus tips on lead generation, conversion and customer delight. Breakout sessions cover a range of topics like Infusionsoft product training, marketing strategy, social media, business management, automation, branding, copywriting, affiliate marketing and more.
Read more...
When: May 21 – 23, 2014
Where: Orlando, FL
The SiriusDecisions' annual Summit is a unique three-day conference where SiriusDecisions analysts and top sales and marketing leaders from Fortune 500 companies and major SMBs share how b-to-b organizations are solving critical issues that hinder predictable growth. Each year, the theme focuses on aspects of how sales and marketing can, and should, intersect.
Read more...