Industry News
Written by Kim Ann Zimmermann, Managing Editor
Thursday, 06 June 2013 09:53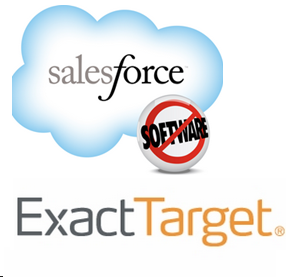 Will Salesforce.com's acquisition of ExactTarget fuel interest in marketing automation, or does it mean that the marketing automation function is going to get gobbled up by CRMs, the way Oracle swallowed Eloqua? While it is still early in the game, most experts who spoke with Demand Gen Report said the ExactTarget deal was a positive move for the marketing automation space. However, independent vendors will have to address other marketing functions such as budgeting, content planning and financial applications to remain viable in the long term.
"It is a brilliant move for [Salesforce.com] that gives entry into B2C markets, addresses a critical functional weakness in their own system, and gives them Pardot marketing automation for free," said David M. Raab, Principal, Raab Associates. "Marketing automation sits right between email and CRM, so once you control those two, then marketing automation pretty much comes along for the ride. But I don't think SFDC will shut out competitors, so it's not an immediate death sentence for independent marketing automation vendors."
Read more...
Content Strategies
Wednesday, 05 June 2013 09:51

Kapost announced an editorial calendar app for Eloqua users, enabling them to view their email and campaign activities on monthly and quarterly calendars directly within the marketing automation platform.
The free Kapost Calendar App Beta, which will be available in late June to all Eloqua 10 users, offers two views: Content and Campaigns. Respectively, they show sent and scheduled Eloqua emails on a monthly, weekly and daily basis; and activated and scheduled Eloqua campaigns on a quarterly basis.
Read more...
Demand Generation Strategies
Written by Kim Ann Zimmermann
Wednesday, 05 June 2013 09:27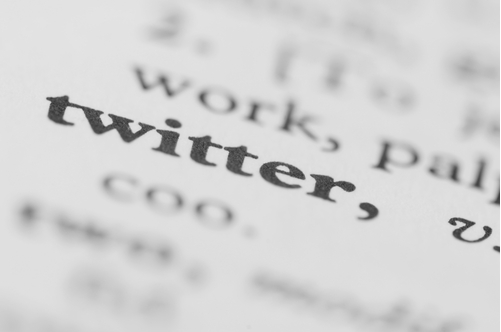 When B2B marketers send out a typical paid tweet, they have to direct leads to a landing page with a form for their name, company, email and any other pertinent bits of data they want to capture. As any marketer knows, when prospects have to go to another site and fill out a form it increases the likelihood that they will just abandon the task.
That is all about to change with Twitter's new Lead Generation Cards, which are being called revolutionary by some industry observers and could have an impact on how other social media outlets address the needs of B2B marketers going forward.
Read more...
Rich Media
Written by DG Report
Monday, 03 June 2013 00:00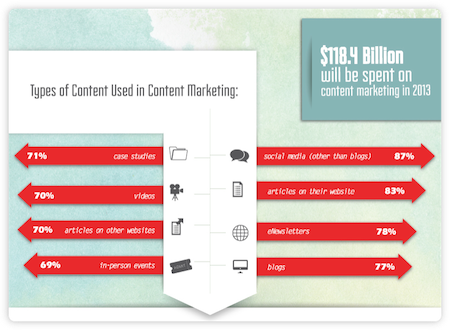 Marketers are expected to spend $118.4 billion on content marketing in 2013, so they need to make the most of this investment by reworking existing content in other formats. This infogaphic from Active Internet Marketing makes the case for taking a piece of content you've already own and giving it new life in a different media.
Read more...
Industry News
Tuesday, 04 June 2013 08:29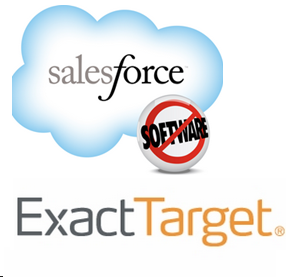 Salesforce.com — long thought to be in the market to acquire a marketing automation vendor since Oracle bought Eloqua — announced plans to purchase ExactTarget for about $2.5 billion. The move comes as a bit of a surprise to industry observers, who noted that Marketo's recent successful IPO positioned the company as an appealing acquisition target for Salesforce.com.
The transaction, which has been unanimously approved by the Boards of Directors of both companies, is expected to close late in Salesforce.com's fiscal second quarter, ending July 31. The acquisition is expected to increase total revenue by $120 to $125 million in fiscal year 2014.
Read more...
<< Start < Prev

101

102 103 104 105 106 107 108 109 110 Next > End >>


Page 101 of 280
Demanding Views
By Bonnie Crater, CEO, Full Circle CRM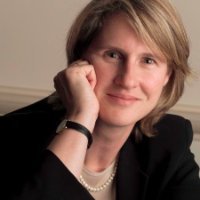 Measuring marketing and its impact on revenue is a hot topic these days but making an investment for change in organizations can sometimes be challenging. More specifically, there are usually three types of reasons we make changes in business — personal reasons, strategic reasons, and financial reasons.
Read more...
Bulletin Board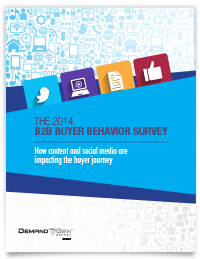 Demand Gen Report's 2014 B2B Buyer Behavior Survey provides insights into how B2B buyers make their decisions. Buyers are waiting longer to engage with sales, but they are more satisfied with the process than in years past. For an in-depth look at this research, download the report now!
Solution Spotlight

Ambition is the self-proclaimed "fantasy football for sales teams," designed to use gamification to benchmark sales reps within an organization, boost productivity and close more deals.
Read more...
Follow Us
Industry Events
When: November 11 – 13, 2014
Where: Raleigh, NC
Internet Summit is a premier digital strategies forum with a goal of educating and promoting forward thinking and thought leadership on topics related to internet business and marketing. Attendees come from a broad range of organizations including National Brands, Agencies, Technology Companies, Media, B2B Providers, Associations & Nonprofits and Startups.
Read more...
When: February 16 - 18, 2015
Where: Scottsdale, AZ
The B2B Content2Conversion Conference brings together the top thought leaders and practitioners in both content and demand generation. The combined agenda provides real-world case study examples, as well as actionable takeaways on how marketers can better target, engage and convert prospects into customers. Taking place in Scottsdale, Arizona, the B2B Content2Conversion Conference provides you with a playbook to optimize your 2015 marketing plans.
Read more...
When: February 23 – 26, 2015
Where: Las Vegas, NV
Discover how-to details and strategies for fast, measurable digital marketing success. All of it is real-world experience grounded in rigorous research and taught by successful marketers who face your same challenges. Learn how to make your email campaigns — and your career — more successful than ever and do it within a world-class venue. It's no wonder leading organizations consider Email Summit a priority investment year after year.
Read more...