3 Examples Of B2B Brands That Deliver 'Brand' Over 'Demand'
Demand Gen Report recently interviewed Tom Stein, Chairman and Chief Client Officer of B2B branding agency Stein IAS, about the importance of brand. One quote that stuck out to me was, "brand is demand and demand is brand." He said that the two go hand in hand in B2B marketing today.
Modern marketers realize that today, buyers don't look twice at generic messaging that spotlights a specific product offering. It's no longer about why your product is the best, it's about your brand's authenticity and ability to tell a story that resonates with audiences on a much deeper level. This infographic defines brand storytelling as "a complete picture of the facts, feelings and interpretations that are shared about business by the company itself, its customers, its community and the public in general."
You'll notice that nothing in that description mentions product — it's about the people and the community.
"Consumers are tying their purchasing decisions closer and closer to shared values with brands," said John Hurley, Senior Director of Product Marketing and Product Strategy at Radius, told Demand Gen Report. "But consumers also have a sharper radar for disingenuous acts, so you have to be genuine and you have to be trustworthy… The companies that are actively investing their time and resources in this are thinking long term about their role in society and will be the lasting brands for modern consumers."
Here are three examples of B2B companies that have presented their brand on an emotional level through their marketing. Hopefully, it inspires your organization to think beyond demand generation.
Kforce Showcases Its Social Responsibility Through Email Marketing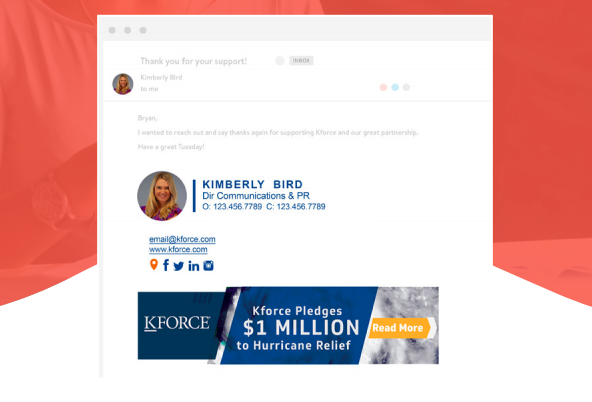 Professional staffing agency Kforce promoted social responsibility via employee-driven email marketing tactics. When Hurricane Irma hit South Florida and the Bahamas in 2017, the Florida-based company used email signature banners to promote its relief efforts and inspire its community to donate to the cause.
Kforce donated $1 million to the American Red Cross and sponsored private jet missions that flew necessities to those affected by the storm. The email signature banners encouraged recipients to donate, resulting in more than 5,000 clicks and generating several thousands of dollars in additional donations to victims.
Google Shares Product Capabilities Through Love Stories
During this year's Super Bowl, Google took to storytelling to spotlight the power of its products. The commercial, titled "Loretta," was inspired by the true story of a Google employee's grandfather.
With a narrative that tugs on heartstrings, the commercial showcases a man using the search engine and the Google Assistant device to go down memory lane by showing him pictures of his late wife. According to Lorraine Twohill, Google's Chief Marketing Officer, the commercial was similar to another ad the company launched 10 years ago, which told a story of an American man finding love in Paris.
"Both are simple love stories told through the lens of our products. Both were inspired by real people," Twohill said in a statement.
General Electric Turns To Social Media To Spotlight Its Brand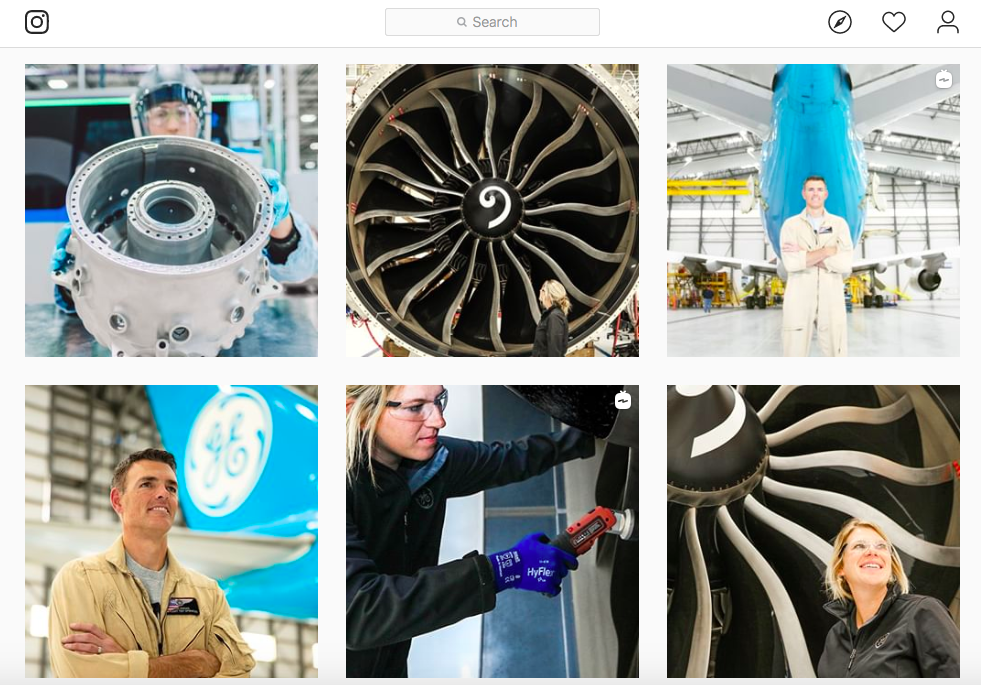 General Electric's Instagram page allows the company to spotlight the employees behind the product. The page features short videos of real stories told by its mechanics, engineers and other GE workers who have helped develop the products that make an impact on people's day-to-day lives.
Instead of showcasing product demos, GE let these visuals tell the story of the brand in a unique and authentic way.
DOs & DON'Ts Of Brand
If any of the above examples inspired you to rethink your brand this year and beyond, I asked Doug Kessler, Creative Director and Co-Founder of Velocity Partners, a B2B content marketing agency, to share some dos and don'ts to keep in mind when you get started:
DO — Make content that's only for a brand message, not a mix of brand and product and demand gen.
"Make content that celebrates what you believe and what you value," he said. "Leave the product messages to other content."
DO — Allow for brand flexibility.
"Old-school branding is all about lock-step consistency everywhere. New branding recognizes that a brand is a living thing and can show all the variety of expressions that a person can."
DO — Do crystallize your Galvanizing Story, the central unifying narrative of your brand.
"…So everyone understands the change in the world that makes you indispensable."
DO — Study other great brands outside your category.
"See what leaders do. Pick apart the tactics that work for them."
DON'T — Lock down your brand in straitjacket guidelines.
"That worked for promotional collateral but not for the rich, varied world of content and the internet," said Kessler.
DON'T — Park your brand ownership in a sleepy administrative backwater.
"This is a vibrant, strategic asset and should be owned by your most articulate visionaries."
DON'T — Think of brand as only what you say.
"It's mainly what you do," said Kessler.