Playing "Musical Chairs" With Your Marketing Automation Platform Is Not A Solution To Your Scalability Problem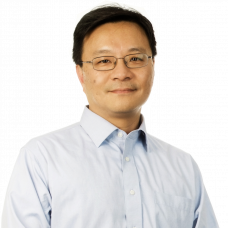 We're often involved in sales engagements where the prospect has either recently changed their marketing automation platform or is considering a switch. Migration can be extremely costly — so why do it? Maybe it's Oracle, Adobe and Salesforce battling for incremental market share in a saturated market. But more likely, it's a sign of a more fundamental trend.
Why Switch?
Why do marketing teams change their marketing automation platform? At Openprise we've heard the following reasons:
Performance and scalability problems;
Outgrown existing platform;
B2B / B2C platform mismatch;
Costly license fees;
Management directives; and
Strategic alignment with a vendor.
Most of these factors are out of marketing's control. But that leaves these quantifiable reasons for a team to switch to another platform: license fees, and performance and scalability issues.
Switching For Cost Savings
Ripping out and replacing a cornerstone platform because a competing vendor offers a better price is rarely a reason to switch. Any savings in license fees is offset by expenses related to the migration plus the cost of lost productivity and disruption to the business.
Instead of switching, consider these ideas to reduce costs with your current platform vendor:
Remove inactive and junk records — Move inactive or non-marketable records to a data orchestration platform or a data warehouse that costs less per record.
Stop paying extra for stuff you don't need — If you're paying extra for custom data objects (CDO), review your data architecture and consider storing CDOs outside your platform, using custom data fields instead or using an external data orchestration platform for appending and calculations.
Focus on data quality over quantity — Limit enrichment to the active part of your database. Using a data orchestration platform can help to control and automate which data providers are used and when.
Switching For Performance, Scalability Issues
As you add records to your marketing automation platform over time, you'll no doubt experience more performance and scalability issues. The reason: loading up your platform with lots of programs and campaigns, thousands of custom data fields and boatloads of custom objects, and all the automation necessary to make it all "go."
Marketers hope that starting over with another vendor will solve their performance and scalability problems when the root cause of poor performance isn't the platform itself, but how it's loaded up.
Here are the keys to fixing these issues:
Remove unnecessary, overlapping and poor ROI stack components;
Offload data-heavy programs and campaigns into a data orchestration platform;
Remove excess custom data fields and custom data objects; and
Archive and remove inactive assets and programs.
This type of remediation project is most effective when done over time to minimize disruption to the business.
Understanding The True Cost Of Switching
To understand the costs involved in switching platforms, look at this project plan shared at a recent Marketo User Group meeting in San Francisco:
In the scenario below, LiveRamp, a medium-size B2B company needed to split its Marketo and Salesforce instances. They had a Marketo database of less than 1,000,000 records and migrated fewer than 500 active programs (after spending time, money and resources deciding which programs to deactivate and archive). However, their Marketo-to-Marketo migration took six months, and hundreds of thousands of dollars. This high-level project plan shows how much work was involved.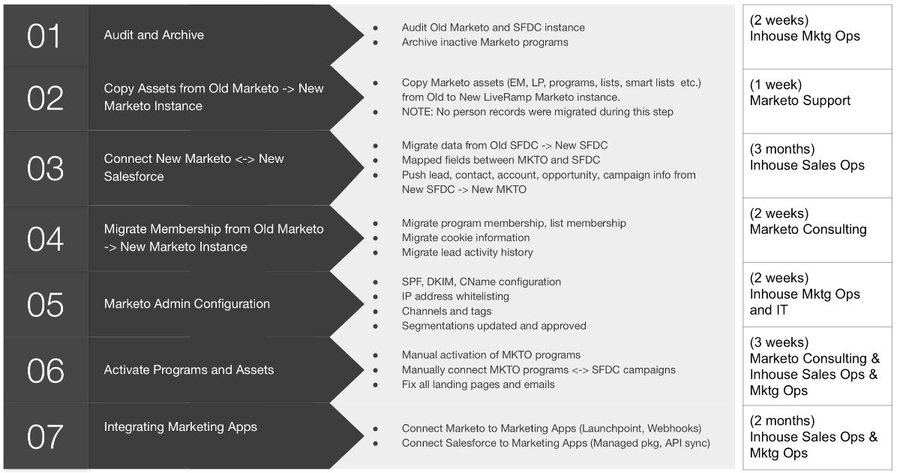 Source: LiveRamp: LiveRamp's multi-phase, multi-month Marketo-to-Marketo migration plan.
Presenting the slide above, Harjot Singh, Senior Marketing Operations Manager with LiveRamp, said, "Migrating your marketing automation platform is unbelievably taxing on your resources and time. I recommend that marketing teams consider switching as their last resort."
Attempting a migration like this with a bigger database would only compound the complexity and duration of a migration project. If moving from Marketo-to-Eloqua, or Eloqua-to-Marketo, expect even higher levels of complexity and more than 12 months to complete the project.
This is no leisurely 12-month project — it's all-consuming and ties up a huge chunk of your resources. So, everything else you need to do to run the business suffers.
The Moral Of The Story
If you've learned anything here, it's don't play musical chairs with your marketing automation platform. For your sanity, think twice before switching for license cost or performance issues. Changing to another platform should be your last resort. Consider other options, and you may find cheaper, faster and less disruptive solutions.
---
Ed has been building stuff as far as he can remember. Prior to founding Openprise, Ed was VP of Marketing and Product Management at companies including Axway, Vordel, Qualys, Agiliance and Oracle. He deployed Marketo three times before doing it again at Openprise. Each time he was handicapped by poor data quality, but no more!